Tuesday, November 6, 2012
This week volunteers at Adopt A Dog have selected Lacey as the program's adoptable pet of the week. They describe her as follows:
"Lacey is a 4-month-old puppy with oodles of spunk and sparkle! Our best guess is that she's a Jack Russell/Yorkie/Chihuahua mix, or something like that, and she weighs in at about 7 pounds!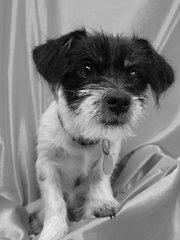 "She's super-sweet and cuddly, and loves to rough it up and play hide-and-seek-and-pounce with other dogs. And when they're not looking, she is quick to sneak their toys away and claim them as her own, but she always ends up sharing and has nice manners for such a little girl.
"She is full of silly puppy energy but then crashes and is quick to sleep after a busy day of exploring. Lacey has those sharp puppy teeth, too, and is doing supremely well with her housetraining, and she'll keep any new family giggling at her clumsy attempts to run like the big dogs!"
Lacey is current on shots and micro-chipped, but too young for spay. Her adoption fee is $200, plus spay deposit; cash or check only, please. The adoption fee is charged to help recover standard average veterinary expenditures for each dog.
Please call ahead to meet Lacey at the Hukari Animal Shelter, 3910 Heron Drive, Odell; 541-354-1083. Adoption hours are Wednesdays from 5-7 p.m. and Saturdays from 9-11 a.m. Applications may be downloaded at www.hoodriveradoptadog.org and faxed to 877-833-7166.
The Adopt A Dog program offers 24PetWatch microchips, which include free registration into the 24PetWatch pet recovery service.
(For more information visit www.24petwatch.com or call 866-597-2424.)