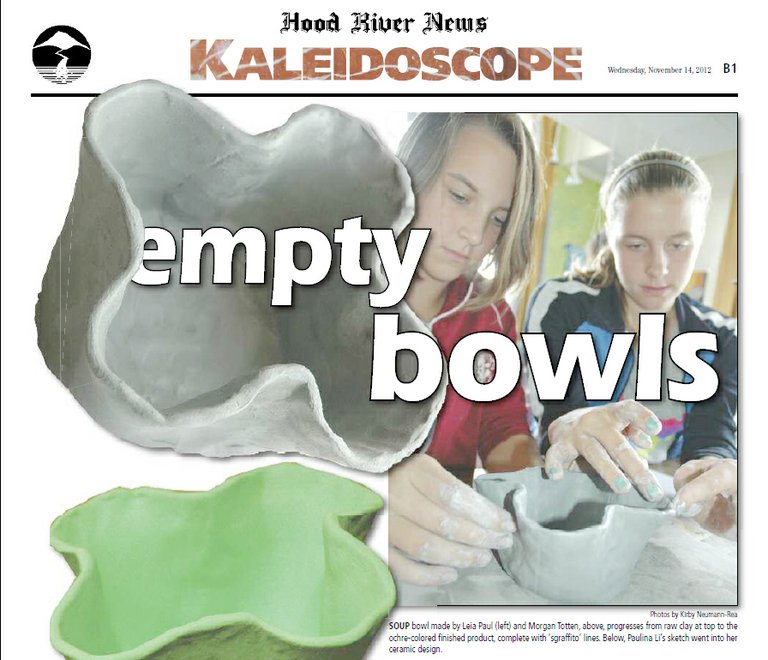 Tuesday, November 13, 2012
"Want more?"
A soup bowl asks the fitting question, via inch-tall ceramic letters.
The bowl is just one of 100 that diners may chose from Thursday at the first "Empty Bowls" dinner, an event that is part student art project, part fundraiser, at Gorge Grown Food Network. (Details below.)
Empty Bowls is a benefit for the FISH food bank capital campaign. FISH hopes to break ground in 2013 on a new facility on the grounds of Our Redeemer Lutheran Church on Tucker Road, and needs to raise about $700,000 toward the $970,000 goal.
Document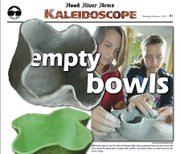 Artist Shelley Toon Hight is working with Hood River Middle School students and their teachers in three different classes, and the AP ceramics students at Hood River Valley High School to create 100 bowls for people to eat soup from on Nov. 15. The $30 dinner admission goes to the FISH building campaign and attendees get to keep the bowl.
FISH has raised $163,000 through donations from Our Redeemer Lutheran and Asbury Churches, individuals in the community, and via donations or grants given to FISH directly. This includes a $30,000 pledge from the Hood River Lions Club.
FISH's goal is to begin construction in 2013 and open the doors in 2014.
FISH's primary site is housed in a portion of Concordia Lutheran Church in Hood River. Paul Lindberg, capital campaign manager, called it "a wonderful partnership," but said that FISH needs to have a more stable, and user-friendly facility.
Currently, food is stored in the basement and distributed on the ground level, which requires many trips up and down stairs; the building is not handicapped-accessible; there is no loading dock; the parking lot is often flooded; there is no area for clients to wait inside; and there is no area for privacy for interviewing clients.
Furthermore, FISH has strategically located freezers and refrigerators around the perimeter of the room because of concerns about the floor collapsing. In fact, FISH needed to install a beam in the floor to provide additional support.
In short, the facility itself has begun to limit FISH's ability to meet the increasing community need.
Right now, FISH provides food at locations in Hood River, Odell, Parkdale and Cascade Locks.
The project will also improve overall operations by:
building a repackaging area for large quantities of food;
utilizing larger, more efficient freezers and cold storage facilities;
creating a more efficient delivery system through a single-level loading dock; and
providing a more organized shelving, stocking, and display system making the process easier for volunteers and clients.
FISH Food Bank's primary purpose is to provide food for the hungry in Hood River. However, the food bank also has a secondary, but important function: The food bank provides the opportunity for community members to get involved and do something constructive in their community.

Last year, more than 750 community members of all ages got involved in the community through FISH.

Locally, FISH has seen the demand increase 65 percent since 2007. This increase translates into a monthly average of 400 individuals/families seeking help from the food bank. Last year, 2011, FISH distributed more than 100,000 pounds of food to local families.
In addition to dedicated space for storage and shopping, the new FISH facility will also serve the greater community by providing a demonstration kitchen with attached classroom. This multi-purpose space will be available for food-related workshops, cooking classes, educational trainings and other community events.
FISH's overall vision is to create a focal point for hunger issues in Hood River where community members can access more food when they need it, volunteer to help when they can, learn more about hunger and healthy food choices and help eliminate hunger in our local community, according to Lindberg.
For Empty Bowls, Gorge Grown, Providence Hood River, and the students are teaming with Chef Mark Whitehead of Cornerstone Cuisine, who is preparing three soups for the dinner. It costs $30, and is open to the community (details below).
Lindberg suggested Empty Bowls after seeing the idea work in other places, and mentioned it to Gorge Grown Market Manager Todd Dierker, who in turn asked Providence to serve as sponsor.
Gorge Grown vendors are providing some of the soup ingredients and Blue Sky Bakery in Trout Lake is donating the bread.
"It should be a great way to tie in the end of the market season and the harvest and help those who are in need," Dierker said, "especially at this time of thanksgiving, with the bounty of the season, and try to remember everyone in the community."
"It's empowering," art teacher Shelley Toon Hight said. "I think the kids get it; they really understand that they are making something that is actually going to be used to help people who are hungry," she said, adding that "the teachers have been super supportive."
Carol Birdsell, Jennifer Wilson and Tracy Norton dedicated home room class time, and Birdsell and Wilson organized bowl making in their afternoon elective classes. With about 80 of the bowls made at HRMS, the high school students created the final 20, with help from teacher Amirra Malak.
"We talked a lot about how it doesn't take much energy to do this," Toon Hight said, "and (FISH) is serving about 400 families a month.
"A lot of the students were not really aware, but others said 'Yeah, I know where the food bank is.' A lot of them have been hungry."
Toon Hight said the Empty Bowls dinner will be a true communal effort.
"Instead of going out and buying table decorations, each organization is responsible for setting several tables ready, with the tablecloths, glasses, spoons, and everything. It will have a real eclectic feel, and we're not having to spend a lot of money to raise money."
HELPING FISH
Empty Bowl tickets are $30 and can be purchased at Waucoma Bookstore or at the Nov. 15 Gorge Grown Farmers Market.
Dinner will be at 6:30 p.m., at Hood River
Middle School cafeteria; it rounds out the final Gorge Grown market of the season, 4-7 p.m.
"It's going to be fun to see all 100 bowls grouped together for people to choose from," said artist Shelly Toon Hight.