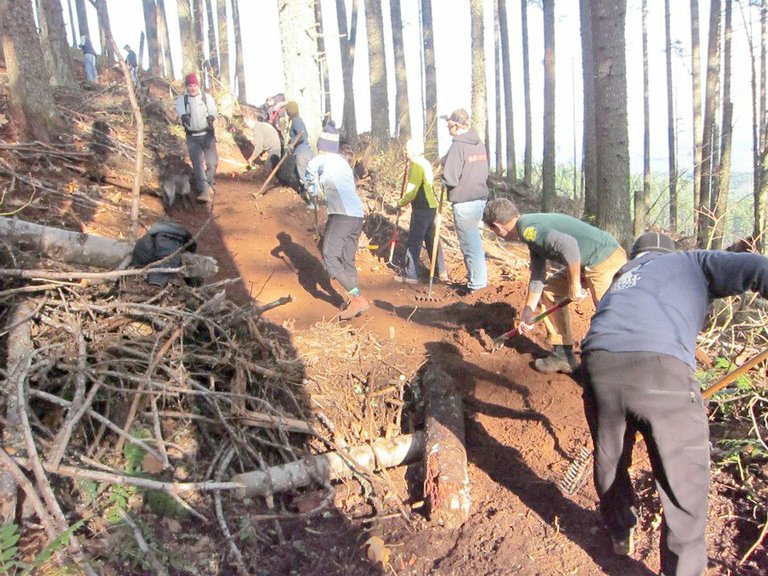 Tuesday, November 13, 2012
With mountain biking season in full swing and many of Hood River's most popular trails either destroyed or in very rough shape from last winter's ice storm damage and subsequent salvage logging operations, Hood River Area Trail Stewards hosted a trail work party Saturday in the Post Canyon/Riordan Hill area.
Almost 100 people showed up to get their hands dirty moving slash, hauling debris and cutting new trail to re-establish 8-Track; a popular trail about a mile uphill from Family Man skills area that was annihilated by heavy machinery dragging logs out of the forest.
"It was by far the biggest turnout we've had for a work party," said HRATS president Matt Klee. "The primary goal was to get more trails in the Family Man area open so people who start there can get a real ride in. With so many people helping we were able to accomplish that goal."
Workers were divided into three groups to work with trail adopters on projects at upper 8-Track, middle 8-track/The Boot and Middle School. At upper 8-Track, workers had to build an entirely new trail due to the extent of the damage to the former one. At Middle School — adjacent to Family Man — workers gave the trail a major facelift by decommissioning old features and installing new ones.
"The goal with 8-Track was to design it for climbing and ascending," Klee said. "At Middle School, the features are a little bigger and the trail is a little more of a challenge for riders; it's a better gap-filler for people to progress."
HRATS doesn't have any more work parties on its schedule for the year, but across the river, Columbia Area Mountain Bike Advocates and Washington Trails Alliance are planning for work parties on the Syncline trail system on Nov. 18 and Dec. 1. For more info on HRATS or the work parties, visit www.hrats.org.