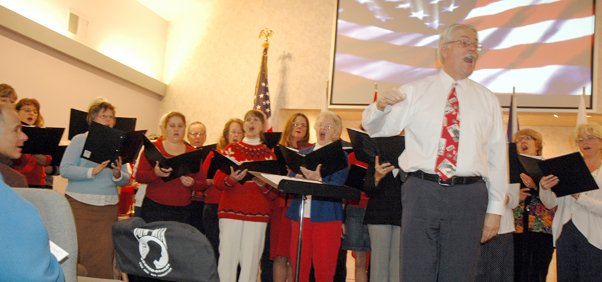 Tuesday, November 13, 2012
Sunday's Veterans Day service in Hood River was much more about the future than the past.
About 200 people attended at Anderson's Tribute Center, and appreciation was expressed to men and women of all fields of U.S. military service, from World War II to Afghanistan and Iraq, and, poignantly, to prisoners of war and those missing in action.
Speakers included the new American Legion Commander Gary Steele, who said, "All of America's veterans have placed our nation's security before their own lives, creating a debt we can never fully repay."
But Steele and others issued a new call to arms, one that is more about honesty and compassion, not heroism and combat.
Steele related how a homeless veteran came to the Hood River Legion building, hungry and in need of a shower and new clothes, and Legionnaires and the owners of a local business gave him a meal, money, and paid for night in a motel, along with clothes and camping gear.
"He was grateful that we cared enough to help him," Steele said.
"How often do we have an opportunity to help others? Let's show our veterans that we really care," he said.
Tom Mann of Oregon Veterans Administration joined Steele and Veteran Service Officer Les Logsdon in challenging everyone — including veterans — to do more to meet the mostly unmet needs of Oregon veterans.
"Our veterans represent the best of America. They deserve the best America can give them," Steele said.
"We owe them more than just a thank you on Memorial Day and Veterans Day. We need to serve them in their time of need."
Mann said, "I tell people don't just say 'thank you for your service.' It's not enough anymore."
He said that among veterans aged 18-24 the rate of unemployment is 29.1 percent in Oregon.
"A lot of veterans who are going back to school on GI bill are failing out, because their injuries make it difficult to concentrate on school work. Their marriages are breaking up at 50 percent," he said.
"You don't see a lot of Iraq and Afghanistan veterans in this room and there's a reason for that. It's not their time yet. They may be out of the service five to 10 years; not their time yet.
"You know where we're finding them is on college campuses, not doing so well. We ask them, 'How can I help?' Now, in our culture, how good are we as military people at accepting help?" He paused and looked around, and heard the murmur of understanding. "Really good, huh? Not our thing right, because we were told to, what? — 'suck it up and drive on. I don't care if your tushy hurts.'
"It's our culture. And our culture, the things we believe in as military veterans is the greatest detriment to us getting the help we need."
Mann noted that many have health troubles — including the effects of traumatic brain injury — difficulty holding jobs, marital problems, and ideas of suicide or hurting themselves or others.
Mann said, "There are Vietnam veterans in this room right now who have suffered for 40-45 years with the effects of post-traumatic stress and they have been living quietly, secretly in their houses and never telling anyone about it.
"This is why the veterans in the room have to be the one, from veteran to veteran, to say, 'No kidding, how are you doing? How can I help?' Ask the hard questions: "You need to look someone in the eye and say, 'How're you doing? Can I help you?'" Mann said.
"We talk about 'wrapping our arms around the veterans,' right? Well, I have a challenge for you. We have a code, 'Don't leave anyone behind,' that's our code. We live it, breathe it, we mean it. I was so touched by Gary Steele, and what you did for that man. I want everyone to be that compassionate when it comes to those in need."
Mann, Logsdon and Steele all underscored the need to communicate to veterans that services, and benefits, are available, if veterans will seek them.
"There are a lot of people who served (in the military) previously who haven't come in, haven't raised their hand and asked for help," Logsdon said.
"So today I'm asking veterans, please come in on Tuesday and Wednesday. We've got a long ways to go. If you know a veteran or members in that family that need help, we'd like to see them.
"I'm back," said Logsdon, who recently returned to work after surgery recuperation, adding that he and his volunteers have plenty of energy to help veterans.
"We're getting results and most of the results that are given are very positive. We appeal a few but a lot of them our VA is able to get very close to what was originally asked. We have a lot of quality results and veterans are a lot happier with the outcomes," Logsdon said.
The event featured speakers, color guard by local Scouts, a reading by Nick Kirby, and music by Mid-Columbia Community Choir, directed by Perry Cole.
"I've been trying for three years to bring the choir here," said Jeanne Marie Davis, who organized the service.