Friday, November 16, 2012
Cowboy gathering Nov. 24
On Saturday, Nov. 24, the historic The Dalles Civic Auditorium is the place for the 6th annual Columbia Gorge Cowboy Gathering presented by Columbia State Bank and the Fort Dalles Riders.
The afternoon show, from 1-5 p.m., is free to the public. It's an open mic show, so come on down and share a poem, story or song, or just listen to everybody else share theirs. The ticketed evening show (doors open at 6:15 p.m., show starts at 7 p.m.), features singer Keeter Stuart, cowboy poet Duane Nelson, and singer-songwriter Adrian, aka Buckaroogirl. Western Horseman Magazine calls her "western music's answer to Taylor Swift."
Enjoy the best in Western and Cowboy entertainment, brought to you by Columbia State Bank, The Dalles Area Chamber of Commerce, Cousin's Country Inn, Coastal Farm and Ranch, Northwest Farm Credit Services, NAPA Auto Parts of The Dalles, Spooky's, Wasco Co. PUD, Oregon Equipment, Murray's Furniture and The Feed Shack.
Admission to the evening show is $20, and tickets are available at The Feed Shack, Klindt's Booksellers, The Dalles Chamber of Commerce and at the door.
For more information, go to: thedallescivic.org, or call 541-296-5953.
Voci concert Dec. 2-3
The Columbia Gorge Orchestra Association presents the Voci Community Chamber Choir in concert on Sunday, Dec. 2, at 2 p.m. and Monday, Dec. 3, at 7 p.m. at the Hood River Valley High School Bowe Theater.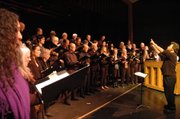 Although December choral concerts often focus on seasonal music, Voci's program will focus on music that is timeless and yet still resonates with themes of mystery and transcendence.
Including music by Ralph Vaughan Williams, Pablo Casals, James Mulholland, Johaness Brahms, and others, the concert will include choral music with oboe and trombone accompaniment — less often heard partners with the voice. Rounding out the program will be a performance by Voci's new small vocal ensemble and special guests (and Voci members), singer/songwriter Jim MacMillan and pianist Tim Mayer. Donations of $10 per person or family is encouraged for this concert.
Rich Wilkins at The Pines
This week at The Pines Tasting Room in Hood River: Friday, Nov. 16, Rich Wilkins Blues Band, 6:30 p.m. The Rich Wilkins Blues band specializes in bringing traditional blues and dance music to the Northwest. With years of experience, Wilkins brings his hot saxaphone touch to blues standards by Jimmy Reed, Little Walter, Elmore James and more.
Come the Hood River Jazz Theater at The Pines on Sunday, Nov. 18, for a fun mix of classic vocal jazz, swing, Blues and a waltz or two. They play from 3-6 p.m. The Pines Tasting Room, 202 State St., Hood River; 541-993-8301.
The Saloon Ensemble at Everybody's Nov. 16
Saloon Ensemble were birthed in the free spirit at Burning Man festival in 2005. Members are musicians in Portland's favorite bands including MarchFourth Marching Band, Vagabond Opera, Trashcan Joe, The Eels, Sweet Juice, The Ukeladies, and The Pete Krebs Trio. They come together for one mission only: FUN.
"Our seemingly bottomless bucket of material ranges from comic and stompin' originals to unexpected spins on pop hits from every genre imaginable – all performed with swingy, jazzy, campy, loungey, wild & crazy flare! With Crazy Costumes, Kazoo Symphonies, Tap-Dancing, Shark Attacks, Whiskey Sipping, Swing Dancing, Sing-A-Longs — the only thing you can expect is one hell of a good time! Everybody's Brewing, 151 E. Jewett Blvd., White Salmon, Wash; 509-637-2774.
'The Winner Is' open call Dec. 8
NBC is promoting a new show called "The Winner Is" and is looking for talent from the Northwest. Could your singing talents make you the next star?
Document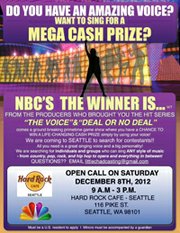 Entertainment listings can be e-mailed to jdrake@hoodrivernews.com