Friday, November 16, 2012
This week volunteers at Adopt A Dog have selected Rosita as the program's adoptable pet of the week. They describe her as follows:
"Rosita is a 6-year-old chocolate Lab with a zest for life like none other! She's as active and playful as a puppy! Cuddly, too! She does her best to be a lap dog, so be prepared.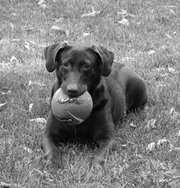 "She loves the water, and will entertain herself with toys when no one else wants to play, and she even helps with the laundry! She has lived her whole life outside up until now but is in a foster home and likes it just fine. So much so, that she gets nervous when she doesn't know where her people are, but she gets better every day.
"Rosita would do best in a home where she is with someone all the time, so either as a work-buddy, or home companion, she's a true delight. She has mesmerizing eyes that warm the heart and make everyone who meets her happy they have.
"She is housetrained, great with cats and other dogs and loves to be with people. She knows some basic commands, thinks car rides are da'bomb, and is great on a leash. And what Lab doesn't like fetch? Rosita is awesome at getting that ball! Just check out her video on our website.
"Rosita is a polite, energetic, loving dog who would love to go to her forever home and settle in to a nice routine and get lots of attention, and give lots of love. She likes that the best!"
She's spayed, current on shots and micro-chipped. The adoption fee for Rosita is $160; cash or check only, please. The adoption fee is charged to help recover standard average veterinary expenditures for each dog.
Please call ahead to meet Rosita at the Hukari Animal Shelter, 3910 Heron Drive, Odell; 541-354-1083. Adoption hours are Wednesdays from 5-7 p.m. and Saturdays from 9-11 a.m. Applications may be downloaded at www.hoodriveradoptadog.org and faxed to 877-833-7166.
The Adopt A Dog program offers 24PetWatch microchips, which include free registration into the 24PetWatch pet recovery service. (For more information visit www.24petwatch.com or call 866-597-2424.)