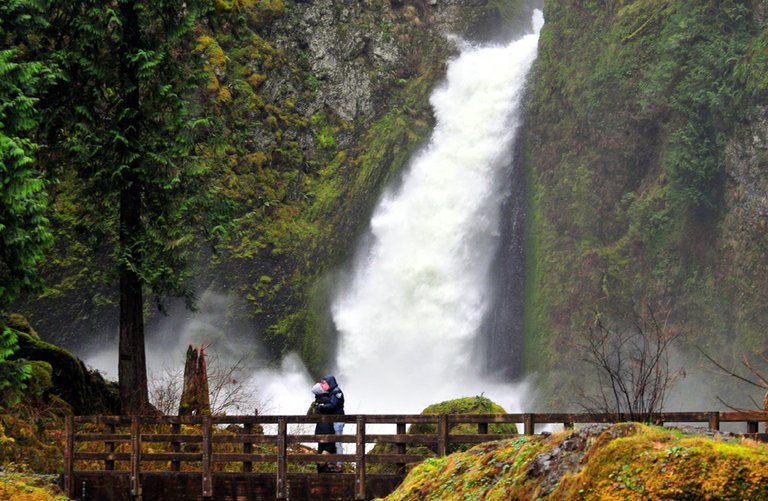 Tuesday, November 20, 2012
If solitude and self-reflection beneath the awe-inspiring thunder of a waterfall bursting at its seams sounds like your thing, this is the best time of year to take a hike in the Gorge.
Wildflowers, sunny skies, lunch breaks the shade and dipping hot feet in cold streams is long gone for the year; but what you sacrifice in pleasantries of sunnier months you make up for in the wet season with empty trails through mystical foggy forests, cascading streams, monster-sized mud puddles and moss-covered cathedral walls spilling rainwater from every crack and crevice.
It's no secret that waterfalls in the Gorge can get monstrous this time of year, but the prerequisite dose of wet clothes, cold hands and soggy boots seems to be enough to keep the masses away until things dry out for the summer.
Of course, you'll hear no complaints of this from those who enjoy the lonesome melancholy of hiking through the mist, footsteps silenced by the splattering of rain on everything under the sky and the distant roar of the destination — the violent twin of an otherwise friendly waterfall, enraged by days of steady rain that few places on Earth can handle as well as the Pacific Northwest.
The Columbia River Gorge has dozens of named waterfalls in close proximity; close to 100 on the Oregon side alone. With a series of storms forecasted to bring several inches of rain to the Gorge this week, a visit to any number of these waterfalls will be well worth the wet hike to get there.
n
Wachlella Falls is only a mile hike from the trailhead (I-84 exit 40, south side of freeway opposite Bonneville Dam), and if you catch it in the middle of a big, wet storm, this in-your-face waterfall is one of the most beautiful in the Gorge. The trail is straightforward, well-kept and of moderate grade appropriate for hikers of most ability levels, which makes it very popular during summer months.
Hikers first cross a footbridge with Murna Falls cascading just an arm's length away into Tanner Creek, which is fed by Wachlella Falls. During heavy rain events several other unnamed seasonal waterfalls appear and trickle over the cliffs towering above. A short climb uphill and about ten stairs is followed by the only split in the trail, which is actually a loop that takes hikers around the falls and back over two more wooden bridges.
Hikers should be very careful on the rocks at the end of the trail surrounding the waterfall and pool; they are extremely slippery. Northwest Forest Passes are required for parking.