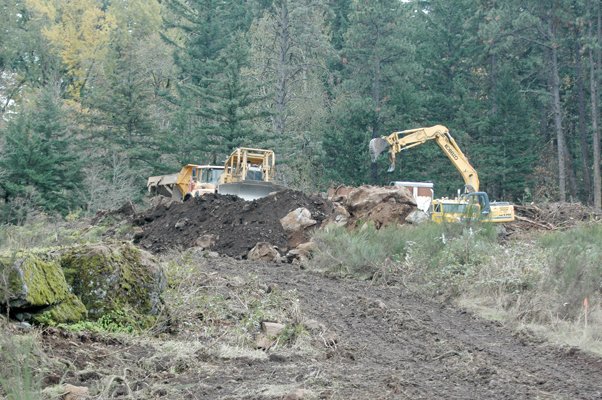 Tuesday, November 20, 2012
Anyone waiting to make a left turn from County Club Road onto West Cascade knows what the term "failing intersection" means. It means at minimum, frustration, or near misses, and, for some unlucky drivers, accidents.
The good news is that with the arrival of bulldozers, front loaders and transport trucks, the work has begun to create a new section of road bypassing that very same failing intersection.
The realignment of Country Club Road as it connects to Cascade Avenue has been a priority for City officials for several years as increasing traffic at the critical Westside intersection has escalated challenges for drivers.

The adjacent I-84 exit 62 interchange traffic has added to the intersection's congestion, but, with the contribution of ODOT interstate highway funds towards the project (previously earmarked for the Button Junction upgrade), is now helping to create a solution.
According to Bob Francis, Hood River city administrator, Kerr Construction, working under the city's project management contractor (Key Development Corporation) is in the process of removing trees from and moving earth on the land platted for the new road.
While some neighboring property owners will certainly note the loss of the trees, the city acquired rights to all of the involved land prior to beginning their construction work.
"You can't put a road through without taking out a few trees," said Francis. "We got the road excavation permit two weeks ago. The project was approved by ODOT, who is contributing $3 million dollars to it. It must be fully functional by Dec. 31, 2013.
"We had all of the right-of-ways dedicated to us from all of the property owners out there," added Francis. "This was a project begun a long time ago when the Super Walmart was going to go out there. We re-acquired those rights from Walmart and the private property owners too. They had already given up their rights and had been paid for that by Walmart. Walmart no longer had need of those rights and just dedicated them over to the City."
The new section of Country Club Road will veer to the right of the Timbercrest Condominium complex and behind the existing Mid-Columbia Marine boat business, running parallel to the existing Stonehedge Restaurant driveway then curving back to the left to rejoin Cascade Avenue at Mt. Adams Avenue.
Francis noted that a section of Country Club, between the current intersection of Cascade and the entrance to the Timbercrest condos is slated to be closed to traffic, serving only pedestrians and cyclists. This was a requirement dictated by ODOT and not the optimal outcome in Francis' estimation.
"We tried to leave the westbound travel lane open – it made a lot of sense to still make that a slip lane – to come off at exit 62 and turn right on the old Country Club Road. It doesn't make much sense to go to Mt. Adams Avenue but ODOT won't allow that," said Francis.
"I still feel as though we haven't been given a good reason why we can't make that a slip lane," said Francis. "To get the $3 million, we had to approve the access management plan with that provision, but, I've always been one to say let's go back and look at this and correct that before it is too late."
According to Francis, Director of Public Works, Mark Lago and city engineers Bell Design along with engineering technician Gary Lindemyer supervises the city staff working on the project.
The new roadway will be elevated as it abuts the incline to the south. According to Francis, the city will be putting in a new access road for Stonehedge Restaurant more to the west of its current location.
"I'm truly appreciative of ODOT giving us the $3 million for this project," said Francis who has been working on the problem with other city staff since 2005.