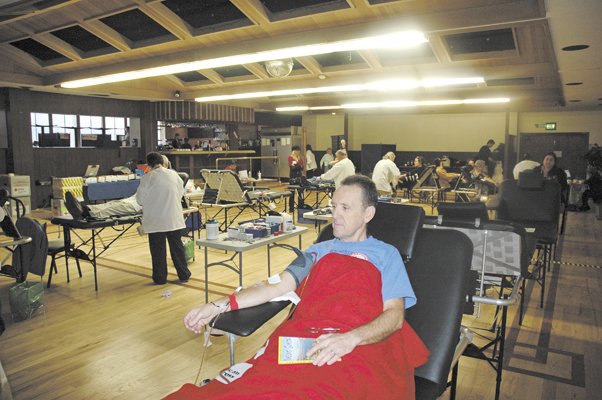 Tuesday, November 27, 2012
Friday's blood drive at Elks Lodge, the 27th year for the lodge's day-after-Thanksgiving tradition, drew plenty of donors, with 86 units of blood collected, three more than the goal.
"We did really well," said coordinator Margo Parker. "We more than met our goal, thanks largely to the six double red donors."
A double red donation is similar to a whole blood donation, except a special machine is used to allow the donor to donate two units of blood at one time. Plasma and platelets are extracted and then the blood components, and some saline, are safely returned to the donor's body. Double red donors must meet certain criteria such as height, weight and hemoglobin count.
Among the double red donors was Hood River's Norberto Maahs, a regular donor in Hood River who gave at the Elks Lodge for the first time.
"I started donating a few years after I came, in 1977, and was consistent for a few years," Maahs said. "I then slowed down because my iron was down, and now I'm taking iron pills, and I've been able to donate regularly."
Maahs works at the Department of Human Services' office of Aging and People with Disabilities. He said being a double red donor takes somewhat longer than a standard donation, up to 60 minutes, so he typically gives after work.
"I never got to do this (Thanksgiving drive at Elks) but today the state offices are closed," he said. "This is the first time in 25 years I had the day after Thanksgiving off, so it worked out perfect."
Over the years, Maahs has donated 133 units of blood, for a total of 16.25 gallons, a figure that gets a boost every time he donates as a double red.
Red blood cells are the most frequently used blood component and are needed in almost every type of patient requiring transfusion, according to the Red Cross.
Parker said that one thing that helped Friday's drive to succeed was that "most people who signed up showed up."
The next Bloodmobile visit in Hood River will be Jan. 23 at the Armory, 11:30 a.m. to 5 p.m.