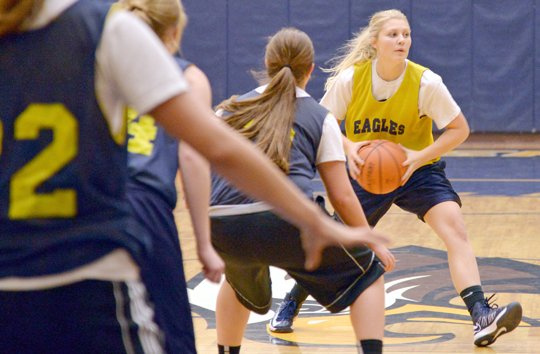 Tuesday, November 27, 2012
Win or lose, the 2012-13 season will be a shared experience for the Hood River Valley High School girls basketball team.
Returning coach Tom Ames sees a hungry team that is "not young but definitely inexperienced."
"We have one senior with significant varsity experience," Ames daughter, Natalia, who started most games, but is the only one who got "a ton of minutes" last year. Natalia is joined by seniors Hallie Curtis, Sophie Oswald and Laura Waller, who will lead ball-handling and post play duties for the Eagles.
Making the step up from junior varsity are Dominique Figueroa, Alia Burck and Annie Veatch, while sophomores Kelsey Wells and Justena Matsen are sure to get plenty of playing time with only freshman team experience to draw on.
"It's really exciting," said Waller, "because we kind of have a whole new team and it's kind of exciting to work together and see how it'll all play out in the long run."
Curtis said, "This is a team where we don't really have a star athlete. We're all going to have to work together; we have to hustle, definitely. I just think we have to have positive attitudes toward each other and pick each other up."
The shared responsibility even extends to the team's new set of uniforms.
"We bought enough uniforms so JV and varsity are wearing the same, all different numbers, and kids can move up and down all year," Ames said. "We're really not locked into 'These girls are varsity.' We have eight or nine who are clearly varsity, but this way we can leave it open, to encourage them to work hard, and if they have three solid games in a row, it's 'Come on up and play varsity.'"
Ames has few certain elements to work with; it is possible that any of a variety of players have the opportunity to emerge this year.
"I don't have one person I can give the ball to in space and give them room and say, 'Go ahead and score,' but they work well together and they're going to have to because, like I said, we have no one we can give it to 10 feet from the hoop and score. It's just not there, and so we're not really a very good one-on-one team, but we work well together and they kind of understand each other and they've played together a lot. Team-wise, it's a good team.
"It is more about making those plays and setting good screens," Ames said. "It requires more discipline among the players. They're pretty disciplined and they play hard.
"A lot of it is already there, and the good news is a lot of our kids are three-sport athletes and they understand that piece and they know where we're at, that we're not outstanding at any one spot, and they know they have to play together," he said.
"We're going to be depending on our guards a lot, and there is the importance of team play between the posts and guards," Ames said, underlining the importance of the dribble drive to create scoring opportunities.
"We're not going to get that many outside shots; most of our scoring is going to have to happen from 3-10 feet out."
Waller said, "It's going to be interesting. I'm hoping to be kind of a team leader and helping the younger kids out. I don't think of myself as a big person so it's going to be interesting to play as a big person on the team," adding that the fall soccer season "helped me a lot with conditioning — goalie training got me used to using different muscles."
Ames said his front court "terrible trio" of Sophie Oswald, Tatyana Taylor and Lauren Winans are also key to the Eagles' success.
"We have a lot of quickness in our posts this year, which isn't like normal," Curtis said, adding that "Kelsey Wells will be a huge help." Wells, a sophomore, grabbed several rebounds and scored three baskets in Monday's blue-gold scrimmage.
Curtis said, "We have to work a lot on defense, and getting our plays down, a lot of passing and driving the basket and getting fouls. Don't go off and do your own thing, and stay with the plan. It'll be a challenge but I think we can do it."
Waller said the squad needs to focus on teamwork, "and a lot of conditioning."
"We're not going to be bigger than teams, so we're going to have to fast-break teams, basically, so we have to be fast," she said.
Natalia Ames, whose job along with Curtis, will be to put the ball into the posts' hands, said being the coach's daughter, "definitely has more pressure than perks." But she feels the pressure from other sources, too.
"I see myself as having to be a positive role model, winning or losing; what I do kinda determines the team," Natalia said. "It's a different pressure, having more experience. I know I have to put a lot of effort not just on the court but off the court, to put in extra practice time and be someone they can turn to."
"It should be fun; we have a lot of young kids coming up," Natalia said, adding that team-bonding meetings, with games such as "Catch Phrase" will be a regular part of the training regimen.
"As seniors we have to be welcoming and show them how, because they don't know what it's like," Ames said. "We have to show them what it's about and what the program is like because they've only played on freshman."
Waller said, "The team needs to do more team bonding. We're all friends but there's some kind of butting heads."