Tuesday, November 27, 2012
This week volunteers at Adopt A Dog have selected Missy as the program's adoptable pet of the week. They describe her as follows:
"Missy is a 4-year-old Schnauzer mix who is used to the good life! Due to personal health issues, however, her owner had to very tearfully surrender the love of her life to us and trust us to find a great new home for Missy.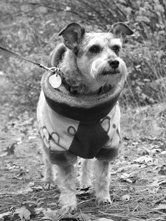 "Missy is playful, sweet and very loyal. She was a little on the plump side when she arrived, but with daily walks and romps around the field at her foster home she's already dropped some of those pesky pounds and is looking svelte in her Mrs. Howell jacket, don't you think? She knows how to use the doggie door, too, and is housetrained.
"She's not used to little kids and some men will get her nervous, though, so maybe a home with a lovely lady with older, respectful kids would be her cup of tea? Or she might settle for one with a patient, calm gentleman who loves long walks and cuddle time when Missy is ready."
Missy is crate-trained, spayed, current on shots and micro-chipped. The adoption fee for Missy is $185; cash or check only, please. The adoption fee is charged to help recover standard average veterinary expenditures for each dog.
Call ahead to meet Missy Odell at the Hukari Animal Shelter, 3910 Heron Drive, Odell; 541-354-1083. Adoption hours are Wednesdays from 5-7 p.m. and Saturdays from 9-11 a.m.
Applications may be downloaded at www.hoodriver-adoptadog.org and faxed to 877-833-7166.
The Adopt A Dog program offers 24PetWatch microchips, which include free registration into the 24PetWatch pet recovery service. (For more information visit www.24petwatch.com or call 866-597-2424.)