Wednesday, November 28, 2012
The hood River County Environmental Health department has put in place a boil water order for some residents in the Oak Grove area after the discovery of fecal coliform (E.Coli) in water samples.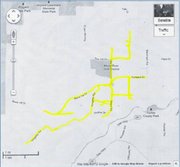 The county urges residents in the affected area, which approximately runs north-south from just above Barrett Drive to areas of Kingsley Rd and east-west from the intersection of Portland and Markham Dr to Kingsley. See a map of the affected area at left.
The county instructs residents of the area to boil all water before drinking it.
"Within the service area, tap water used for drinking, food preparation, brushing
teeth, washing dishes and making ice should be heated to a full rolling boil for
at least one minute. Boiling the water will kill the bacteria identified in the
samples. Any consumables—such as ice or beverages—made with tap water
after Monday, November 26 should be discarded," the county said in a release.
The complete release outlining precautions to take and the dangers of E.Coli may be found on the county's web site (PDF).
The county environmental health department will issue a notice when no further traces of bacteria are found and the water is safe to drink again.