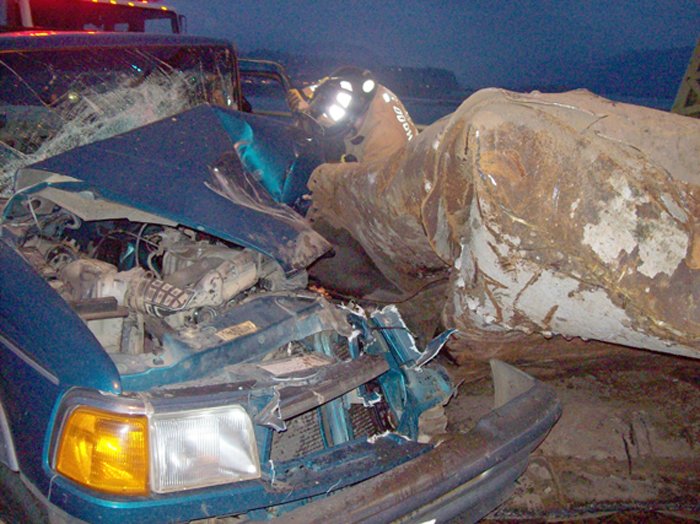 Friday, November 30, 2012
City of Hood River Police Officer Anthony Frasier received an emergency dispatch call reporting a two-vehicle accident had occurred mid-span on the Hood River Bridge, at 7:14 a.m. on Wednesday, Nov. 28.
As Officer Frasier arrived, at 7:17, he found Omar Sankari, 43, of Hood River, injured and pinned in his 1994 Ford Ranger pickup, by a 15-by-6-foot piece of half-inch thick steel. The double-layered steel slab, equating to one inch of solid steel, was being hauled on an open flatbed trailer by Chester J. Tubbs, 52, of White Salmon, when it ricocheted into Sankari's vehicle, slicing it along the driver's side from front fender to the driver's side door.
According to Frasier, a corner of the Tubb's scrap steel was hanging out beyond the frame of his flatbed trailer. After striking the guardrail and central pillar of the bridge as he headed toward Hood River, the slab slammed into Sankari's vehicle, cutting through the truck's frame like butter, as he was traversing the bridge headed toward White Salmon where he is a schoolteacher.
"It crushed Sankari into the car," said Frasier. "This piece of steel was immense."
Frasier, aided by Hood River County Sheriff's Deputy Mark Smith, swung into action upon arrival, calling for backup from Oregon State Police, the Port of Hood River and White Salmon Police, to close the bridge and evacuate all the remaining bridge vehicles, making way for the Hood River Fire EMS ambulance.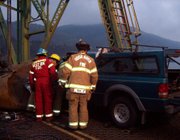 Sankari was stabilized and immediately transported to Providence Hood River Memorial Hospital. After initial treatment he was sent via ambulance to Legacy Emanuel Hospital in Portland. Though his injuries were non-life-threatening, he sustained a broken heel, broken toes and a severed Achilles tendon. He has undergone one surgery as of press time.
"He was very lucky," said Frasier. "If the metal slab been a foot higher, he would have been cut in half.
According to Frasier, while crossing the bridge, Tubbs had "pulled over a little to avoid oncoming traffic, with the metal sticking out on his passenger side. About mid-span the steel hit the side of the bridge, spun off of the trailer and into Sankari's vehicle.
"We had cleared the bridge of other vehicles by about 7:35," said Frasier. "We backed people off to the Hood River side, including a semi."
Hood River and West Side fire departments responded and worked together to cut Sankari free from his vehicle using the Jaws of Life. OSP Troopers Andy Vanderwerf and Thad Routson assisted in maintaining traffic control.
Tubbs had obtained the steel scrap from the now-demolished Condit Dam deconstruction project and was hauling it with a 1977 Chevy 4x4 pickup connected to an old homemade flatbed trailer. Tubbs and his vehicles were escorted to wait at the Hood River marina until the bridge was completely cleared.
After Sankari's rescue, Guzman Brothers Towing removed the Ranger out from under the steel slab. "They were very prompt," said Frasier.
The City of Hood River Public Works then attempted to bring a front loader onto the bridge to remove the steel, but found their equipment too large for the available access.
Larry Zorza, shop foreman from Hood River Sand and Gravel, heard about the accident from one of their own drivers who had been stuck on the bridge. Zorza called in to offer assistance and arrived on the scene volunteering his services and the company's giant-sized CAT high-reach forklift to remove the steel from the bridge.
"Once they removed the vehicle that was smashed, I was able to get hold of the metal. I wiggled it around to get hold of it, and only had a foot and half on each side, and I backed it all the way off," said Zorza, who noted that the forklift has an 8,000-pound optimal capacity. "That thing was all it could handle."
Zorza worked from 8:30-9:30 a.m. to maneuver into position and then back off the bridge with the slab in tow.
"When you're looking down through that grate, to the water and backing up, there's nothing to line up on; just the grate. I tried following one of the seams. I was just trying to keep it tracked, and lined up; it took a little while," Zorza said, adding that a pickup ahead of him and a sheriff's vehicle behind him helped keep him in line.
City Department of Public Works staff received the slab in a Hood River County Public Works dump truck and hauled it to the shop for storage as evidence.
Before reopening the bridge at 10:30 a.m., Port of Hood River staff conducted a thorough inspection to make sure it was safe to drive on. According Frasier, the only damage to the bridge itself was minor — a gash on a guardrail and a dent in one of the large drawbridge pillars at mid-span. The damage can be seen on the left, when heading toward White Salmon.
Tubbs was issued multiple citations, according to Frasier, including one criminal charge. None were related to negligent driving, but instead were tied to improper loading and illegal hauling of material.
Tubbs' citations include: operating with a sifting or leaking load, expired trailer registration, a scrap metal violation for improper transaction records, and a criminal citation for unlawful transportation of metal property.
Tubbs was uninjured, had insurance and was released after citation. He is scheduled to appear in Hood River Circuit Court Dec. 17 at 8:30 a.m.