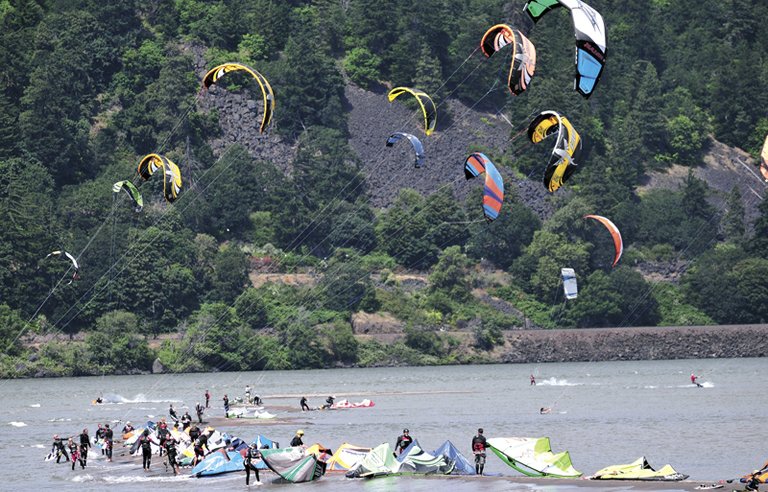 Friday, November 30, 2012
The number of kiteboarding schools operating on Port of Hood River property will be reduced from seven to five through at least the summer of 2015. The number of windsurfing schools will remain at three.
The decision came after a committee of five community members reviewed proposals from eight kiteboarding and windsurfing schools. Based the on evaluation criteria of experience (30%), operating plan (30%), emergency response plan (20%) and instructor training plan (20%) , the committee ranked each school and made a recommendation to the Port Board of Commissioners as to which schools to grant concession permits to for the 2013-15 term.
The board voted unanimously to approve the recommendations during Tuesday evening's bi-monthly meeting.
On the windsurfing side, Big Winds, Brian's and Hood River WaterPlay will receive permits; for kiteboarding, Brian's, Cascade Kiteboarding, Kite the Gorge and New Wind were approved. Kite schools that submitted proposals but were not granted permits were Hood River WaterPlay and Gorge Gradients.
Port Waterfront Coordinator Liz Whitmore said the reason for reducing the number of kite schools is to help increase the level of safety on the water and communication between schools and the port.
"Even the schools themselves encouraged the port to reduce numbers," Whitmore said. "They expressed concerns about both safety and market share. From the port's perspective, safety is the top concern."
Of the schools chosen, five will operate from the Hood River Event Site and have their customer booths arranged in a north to south row along the upper cruise ship dock at the entrance of the parking area. The other two schools operate from different locations (Kite the Gorge from the Spit and Hood River WaterPlay from the Marina and the Hook).