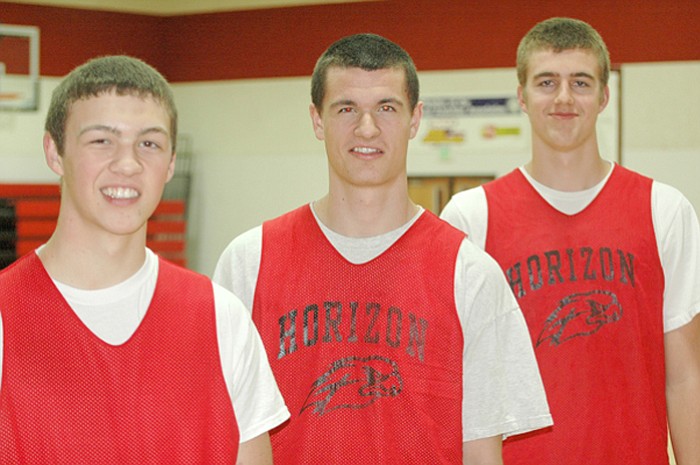 Friday, November 30, 2012
Baseline to baseline, the Horizon Hawks boys team sees the challenge ahead: repeating their State OSAA Class 1A basketball championship.
A tough defending team in 2011-12, the Hawks have put a heightened emphasis on defense to defend their title.
"We've got targets on our backs, so we gotta fight through that, staying motivated," said 6-7 post man Jake Wells, the lone senior starter.
The Hawks opened play with their own tournament Friday and Saturday, and travel to Riverside in Portland on Dec. 5. The league season starts Jan. 4 at Central Christian.
And so begins the challenge of matching the 2011-12 record of 28-4 and the state title.
"We just have to keep focused and work on getting better every day, don't let any other team outwork you any day," Wells said.
Said third-year head coach Darren Lingel, "We want to win district and state both, and to do that you need to play excellent defense. Look at the record and you see that's what we did to win the state championship."
The Hawks lost two key players from last year to graduation: point guard Max Totaro, who had 20-plus points at state, and 6-4 sharpshooter Sam Anthony.
Despite losing six seniors from the championship squad, the team is seven solid players deep, Lingel said.
Last year, and again this year, Lingel will rely heavily on young players.
"Normally you'd say losing six seniors; 'you're going to have a tough year, rebuild wise,'" he said, "but our JV team last year was undefeated and played really well, and a lot of talent came up, so we will have a rebuild year but didn't have to start from scratch.
"We're excited," Lingel said. "The players have a sense of confidence, and it's a great feeling. We have a great basketball team, and their grades are great, which is first and foremost; they are scholar-athletes, and really are bonding as a team and that's what's cool.
"We are ahead of where we were last year, and tells you a little bit about your program: Do we know what we're doing; can we go to that next level, or are we going to start at ground zero again? And we're not having to do that."
Lingel said, "after the first six practices, the players were like, 'Coach, we've been there, done that; what's next?'"
n
At any level, coaches would love to have a rebuild like this. Here's who's back for the Hawks:
n Jake Wells, who can shoot, handle the ball, block and get up and down the court as fast as most players a half a foot shorter.
n Joining him on the block is junior Matt Totaro, who at 6-4 can shoot, run and rebound.
"Those two guys have the potential to be the most dominant (1A) players in the state," Lingel said. "Jake is coming back strong, and he'll be even more aggressive defensively, and Matt's an animal," Lingel said.
"Jake is working on his low post game, on getting the ball in the block, going for the up and under, and keeping the ball high," he said. "At the end of the day it's the chip, that aggression, once he gets a little of that fire, he's unstoppable."
"I'm working on being physical, working on shot blocking, maintaining the post, keeping the paint," Wells said.
n Junior Micah Engel, a returning starter at guard, is a lock-down defender. Engel spent much of the offseason lifting weights and working on his quickness. He also spent the summer and fall working on his offensive repertoire, particularly his mid- and long-range jumpers.
n Sophomore Mason Bloomster, 6-4, is fast and can rebound well. He'll replace Anthony as the team's third guy over 6-3 who can shoot, run and rebound.
"Mason didn't get a lot of time last year, he came off bench, and played primarily JV, but he was anxious to play. He needs to step into that role," Lingel said.
n Junior Ryan Aldrich, who Lingel calls "the heart and soul of this team."
"He's an amazing young kid with a lot of talent and skill and heart of a champion. He dives after every ball. You can see that on the court, he will do anything for the team," Lingel said.
n Sophomore Jared Davis will immediately get the ball in his hands and take on the point guard responsibilities.
"With Max leaving, Jared has some shoes to fill," Lingel said. "He's one of the more talented, athletic kids we have on our team, his court vision is really good, he has the outside shot, and he can shake-and-bake you, take you off the dribble fairly quickly."
"Whatever the coach asks me to do, whether it's offense or defense, I'll bring it," Davis said. "A lot of people say I can see the court pretty well, so especially when we have scorers like Jake and Matt who can dominate, it makes my job easy, I can just find them and I'll get them the ball, and they make the plays. I'm just getting them the ball."
n New to the system, but promising , is junior Wesley Johnston.
"He's a good ball player, can go guard or wing, and hit the three-ball. We like his game, and with a little work in our system, and knowing what we expect, he'll figure that out," Lingel said.
With a sophomore-junior heavy rotation, Lingel said, "We have a couple of years' run here where we can be pretty strong."
"We need to build up our underclassmen," Totaro said. "They need to know what it takes to get a really good team going."
n
For this season, Lingel said, "We want to focus on our inside out game. Every year you want to do that, but it depends on your players and your ability to do that; but this year we feel pretty strongly we can do that and do it well.
"Defense wins championships, " Lingel said, "and that's what our focus is this year: We're working on which direction we want to take the ball at any given time — not just guarding a man but where we want to guard the guy, to trap and push him to his weak dribble hand.
"We as a defender want to dictate what the offense does; we don't want the offense to dictate what we do," Lingel said. "We're working really hard to position ourselves to do that. One of our focuses this year is to take defense to the next level."
Engel said he feels the team's chances of repeating are "pretty good; I just think we just need to take it game by game."
"It wasn't easy to get to state last year," Engel said. "We gotta work our way up there."
Another championship means "more hard work in practice," Totaro said. "Get things done, I guess. Keeping up on the little things: defense is the main thing.
"I'm really excited," Davis said. "They called on me to be 12th man to go to district (in 2011-12) and state, which I was super lucky to get, and just seeing Max and Matt and Jake and all the stars form last year just warming up it was so much more intense than JV, so I'm excited to play this year. It'll be a lot of fun. We have a great team."