Friday, November 30, 2012
In the packed Hood River courtroom of Judge Paul Crowley on Nov. 29, Donald Stuart McAndie, 56, of Home Valley, Wash., appeared via video feed from NORCOR to face indictments of rape in the first degree, kidnapping in the first degree, unlawful sexual penetration in the first degree and two counts of sexual abuse.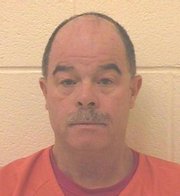 McAndie, a hearing specialist employed in Hood River and The Dalles for the last nine years, is being held at the NORCOR facility under a $500,000 bond with bail set at $50,000. McAndie was formerly employed as a high school teacher and soccer coach in Stevenson, Wash.
No additional details on the case or victim are available at this time, pending a new hearing date, scheduled for Dec. 4 at 10:30 a.m.
Attorney Jan Wyers has been retained as McAndie's representative and was present in the courtroom by conference call only, having just received the case. Judge Crowley scheduled the Dec. 4 appearance to accommodate Wyers' review of the charges. Deputy District Attorney Carrie Rasmussen will lead the prosecution's case along with D.A. John Sewell.
McAndie appeared before Judge John Olson on Nov. 26 for his initial hearing following his arrest by Hood River Police Detective Don Cheli on Nov. 21.