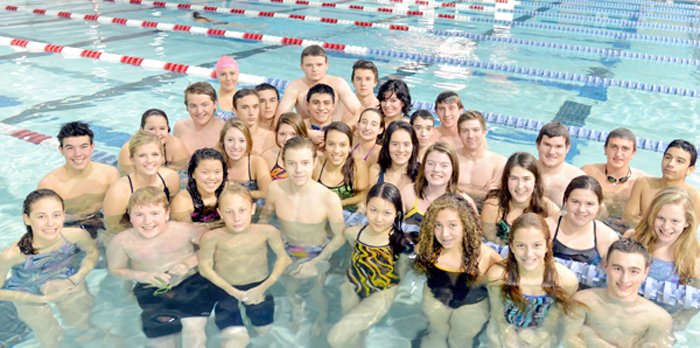 Friday, November 30, 2012
With about 40 boys and girls in the pool this year, the Hood River Valley High School swim team is looking to draw on the experience of several seasoned swimmers and the energy of incoming young talent to guide the team to success in the Columbia River Conference.
The team, led by second-year coach Keith Ebbert, is nearly twice as big as last year's squad, which finished first in the district for the girls and second for the boys. The goal this year is district titles for both teams and to send as many swimmers as possible to state.
But winning isn't necessarily what will define a successful season for Ebbert.
"My philosophy as a coach is to let the kids choose their own events and not force them into anything," Ebbert said. "First and foremost, I want them to enjoy the sport. At the beginning of the season we want the kids to try as many different events as they can so they gain experience from top to bottom instead of just a couple events. As the season progresses they'll specialize more and more in their best events leading up to the most important meets."
Ebbert said the outlook this year is good for both teams, but the boys team has a breadth of talent that the team hasn't seen in several years. Leading that talent will be senior Connor Webb, who had a busy summer and fall season that peaked with the National Championships in Austin, Texas. Webb recently signed a letter of intent to swim at Seattle University and will be on athletic scholarship.
"We're looking forward to another strong season for the girls," Ebbert said. "The boys team is in new territory. We haven't really been able to compete with the other big 5A programs, but with some of our experienced swimmers and the group of high-caliber freshman we have, I think we're going to be there this year."
Ebbert credits the Hood River Swim Team for promoting the sport in the Gorge and for developing young swimmers into experienced competitors by the time they reach the high school level.
The Eagles have nine meets this season, with the district championships at Hermiston Feb. 9. The top swimmer in each event at districts automatically advances to state, as does any swimmer who beats predetermined state qualifying times.
n
The team started its season Wednesday with a home dual meet against Centennial High School. Highlights are as follows:

HRV girls 94,
Centennial 59
First-place finishes from: Rebekah Galvez (200 free), Caitlyn Fick (50 free), Dhani Freeland (400 free), Danielle Miller (100 breast) and the 400 free relay team; second-place finishes from Jocelyn Pedrotti (200 free), Rebekah Galvez (200 IM and 100 back), Erika Winner (50 free), Susan Raulston (100 fly) Anika Engbersen (100 free), Kylie Webb (400 free) and the 400 free relay team.
HRV boys 72,
Centennial 99
First-place finishes from Connor Webb (100 fly and 100 breast), and the 200 free relay team; second-place finishes from Charlie Sutherland (200 free), David Walker (200 IM and 100 back), Diego Ybarra (100 free) and Carlos Galvez (400 free).