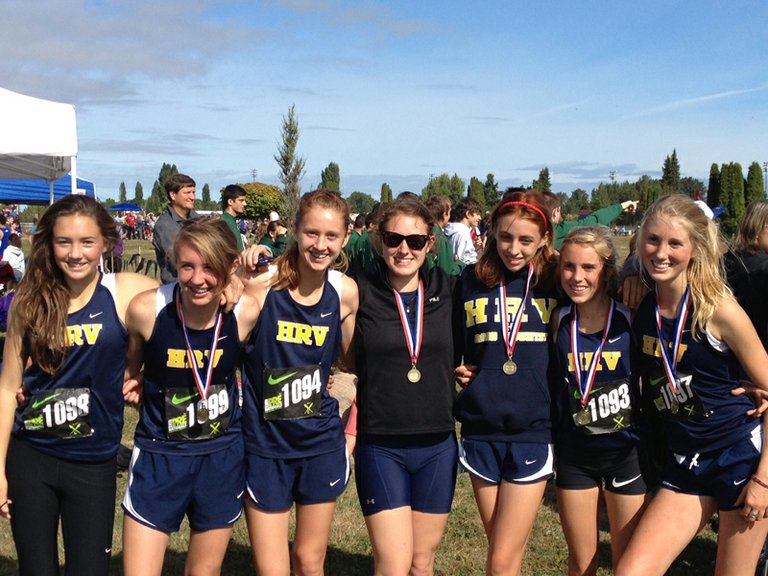 Wednesday, October 3, 2012
Several thousand runners from more than 100 schools across the West Coast swarmed Portland Meadows Saturday for the annual Nike Pre-Nationals cross country meet. Representing Hood River Valley High School were varsity boys and girls squads of seven, competing against fields of 105 and 146 runners in their divisions.
Led by junior runner Grace Grim, the girls team won the 5,000-meter Division 2 varsity race. Grim hung with the top two runners to finish third overall in 19:28.1, just 30 seconds behind the division winner Hazel Carr of Seattle's Northwest High School. Freshman Sascha Bockius wasn't far behind in eighth place, followed by Lauren Robinson in 17th, Lydia Gildehaus in 22nd, Madison Freeman in 36th, Kailee McGeer in 55th and Denali Emmons in 58th.
The girls finished with 83 points and the first-place title in front of 15 other schools. St. Mary's College, Wenatchee, Valley Catholic and Sherwood teams rounded out the top five.
The varsity boys were among 22 teams in the Division 2 race. Junior Ricardo Castillo led the Eagles with a 13th-place finish. His 16:59.5 time was less than a minute behind field winner Micah Dingfield of Medical Lake High School. The team finished 12th overall with 312 points. Winning the division was state powerhouse Mountain View, followed by Eisenhower, Shorewood, Medical Lake and Sunset in the top five.

"Before the race I told the girls to try and win it," coach Kristen Uhler said. "They just looked at me and said, 'Right coach, you always say that.' I think they are starting to believe that they deserve to win. They are all-business during the week at practice and that is a direct reflection on their racing performance … The boys race was super-competitive, with teams flying in from California and Washington. Of the 22 teams, only two 6A teams from Oregon beat our boys."
Uhler said the meet, particularly for the girls, will give the team important momentum going into the second half of the season. The team has only three meets left before the Columbia River Conference Championships Oct. 27, to be held this year in Hood River.
"This was a huge confidence builder and they are starting to learn how to be frontrunners," Uhler said. "They see themselves as runners and are motivated to train year-round to get to the next level. Our goal is to keep improving, gain valuable racing experience, and peak for the district and state meets at the end of the month."
Only the top two teams from each district advance to the state meet (Nov. 3 at Lane Community College); a result Uhler expects for both boys and girls squads.
The team travels Friday to Drake Park in Bend for the Oxford Classic.
Top 3 HRV girls:
Grace Grim, 3rd, 19:28.1
Sascha Bockius, 8th, 20:14.8
Lydia Gildehaus, 22nd, 21:02.8
Top 3 HRV boys:
Ricardo Castillo, 13th, 16:59.5
Jorge Cuevas, 41st, 17:37.8
Justin Crosswhite, 73rd, 18:05.1