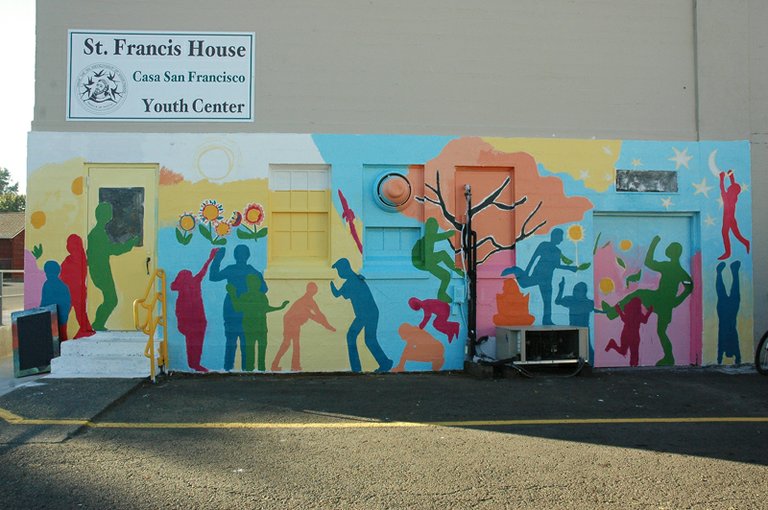 Following a calling to "build communities through art," Alex Cook, a muralist and musician from Boston, worked some magic this week on two local buildings, and in the hearts of the children who use them.
The lucky youths who participated in the mural painting projects at the Mount Hood fire station (backside) and the Mid Valley Elementary historic gym, helped design their murals and, most importantly, became the mural artists themselves.
"The murals always tell a story in pictures," said Cook, who worked with the children and staff of New Vision preschool and St. Francis House of Odell. "My murals always have a spiritual theme in one way or another.
"Images are a natural way to express one's internal experience and to share that with others," said Cook. "This is about coming together through this vehicle, to share with one another. It is about building community."
For the children of St. Francis House, the mural of brightly colored children and adults that now adorns the wall on the back entrance of the gym is the result of the group's desire to show all the fun things they do while in the after-school program.
"Whoa ... that is me!" said Christofer Cruz, 5, who posed against the wall when whitewash and yellow outline paint were all that could be seen of the future finished product. SFH supervisor Rebecca Brochu assisted Cook in outlining Cruz and other children in their soon-to-be-painted forms.
"Over the summer we asked kids to draw sketches of their ideas for our mural. It's not every day that we get a chance to paint something meaningful on walls or to show up in a mural," said Brochu, who led the children's planning process prior to Cook's arrival.
n
A second photo essay on Cook's mural for New Vision School will appear in the Oct. 10 edition.