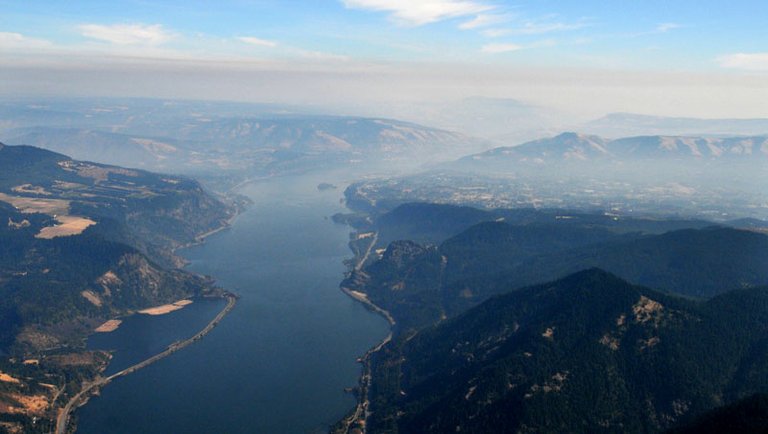 Recent news reports have blazed with dramatic and terrifying images, tapping into a primal, instinctual fear shared by every human — the fear of fire.
According to Columbia Gorge Earth Center speaker Jurgen Hess, a 32-year veteran of the U.S. Forest Service, that fear, fueled somewhat by government policies, has created a modern culture that is dangerously resistant to facing the realities of wildfires.
At the recent CGEC presentation, Hess offered a counter-culture view of fire — discussing its destructive and life-giving aspects equally — and how we humans might better come to terms with wildfire's growing presence in our communities and the world.
With the recent onslaught of local and regional fires fresh in our minds and heavy on our lungs, Hess first acknowledged the half-dozen firefighters in the audience of 35 lecture attendees. He recognized their courage and efforts in the recent flurry of fires and then offered a sobering statement about the future.
"Will next year be any better? I don't think it will be," said Hess. "What we really need to do is to think about fire differently."
Creating that "different thinking" is the mission at the heart of Hess' current professional calling.
"There is a duality in the nature of fire. It is a life-giving force as well as a devastating, horrific, terrifying force.
"Fire has created all the landscapes we have today. It is integral to how landscapes have evolved. It has been a player for millions of years. We know that Native Americans as far back as 1,500 years ago were using fire to clear huckleberry and game fields."
As a result of 32 years in forest work, Hess has had time to experience wildfire impacts in the environment firsthand, to understand the nature of fire itself and to draw some conclusions from his experience.
"I was the lead on a lightening strike fire south of Crater Lake. I had to decide — do I let it burn or not?" said Hess. He chose to let it burn, and though the wilderness losses were clear and devastating, Hess later came to see the benefits of the fire's life-giving impact in the years after the fire.
"You see the regeneration. You see the role that fire has in creating a healthy forest," said Hess.
Offering the reasons behind his own mission to educate, Hess said, "I've seen more and more people building in fire zones. I've learned I didn't like the government's goal to put out 100 percent of our wildfires.
"We need to be looking at sustainable practices for homes and business when it comes to fire, just like any other sustainability issue."
In part, Hess sees the root of current human-fire interface conflicts exacerbated by government policies that went into place around the turn of the century — the result of two specific, large-scale fires in the Northwest where high human losses prompted widespread public outcry for wildfire controls.
"We also began to view forest fires as losses of wealth — that fire was destroying wealth," said Hess, who even took a critical look at the beloved symbol of Smokey the Bear and his role in polarizing the public against natural wildfires. Hess challenged his audience to shift their thinking away from the simplistic view depicting fire as singularly devastating.
With a growing human population constructing homes and businesses that penetrate into wildfire zones, Hess' message is one of practicality and urgency.
"Firefighting is terribly dangerous work. Firefighters die trying to protect us ... more than half of the USFS budget is spent on fighting fires — close to $2 billion ... The media focuses on the devastation, and people want to know that other people care, that something will be done," said Hess, who acknowledges the impulse to demonize wildfires.
Drawing from Hess' observations, though, the national focus on preventing and extinguishing wildfires may in fact drain away energy from some very practical efforts that might be more effective — beginning with the simplest step of all: Avoid building in wildfire-prone areas.
If structures already exist in danger zones, Hess suggests that facing the facts of wildfire behavior, and its natural place in the environment, must become top priority for property owners.
Armed with a tabletop full of free educational materials, Hess presented a wide array of steps individuals and communities can take in becoming "fire wise."
Developing fire wisdom involves several main points of preparation for property owners: understanding natural fire behavior, conducting hazard assessments of properties, creating defensible space through landscaping and construction practices and planning for disaster, emergency access and escape. Each step undertaken can increase individual and community survivability.

Making your home or business compatible with nature is one investment Hess believes will always pay off.
The good news for property owners is the availability of actions that can be taken today. The list is long, but these six landscaping tips can provide a starting point:
n Based on topography, determine the minimum safe 30-200 feet of "defensible space" needed around your structure.
n Remove dead or drying vegetation from that zone.
n Ensure adequate spacing between living plants in the defensible zone — keeping low plant density. Choose fire-resistant plants when possible.
n Remove "ladder fuels" where fire can jump from lower to higher plant branches.
n Ensure a minimum of 30 feet of "lean, clean and green" area directly surrounding your structure.
n Review your defensible space annually and adjust as needed to changing conditions.
Additional firewise construction and escape plans are also available.
n
For free USFS "Firewise Communities" information visit firewise.org.