Comedians Dwight Slade, Leah Mansfield Oct. 19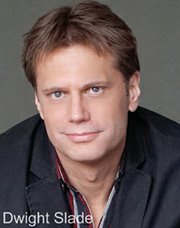 Dwight Slade's stand-up has gained international stature after earning a five-star review from the prestigious Edinburgh Fringe Festival and the Montreal Just For Laughs Festival. He followed this with a tour in Afghanistan performing for U.S. troops followed by a tour of Israel. After a stellar performance at the 2008 Comedy Festival in Las Vegas, Slade was chosen to appear on the Tonight Show. Slade's Hi-Def Comedy Special, "Right & Raunch" is now available on DVD. Dwight Slade & Leah Mansfield, Friday, Oct. 19, 8 p.m. Tickets are $12. For information or tickets call (541) 298-3287. 21 and over. The Portage Grill - Shilo Inn, 3223 Bret Clodfelter Way, The Dalles; 541-298-3287.
Tickets on sale now for 'Wild and Scenic' film festival
This 5th annual Wild and Scenic Environmental Film Festival will be at the Columbia Center for the Arts in Hood River on Nov. 9-10. Tickets will be available online at www.crag.org and at Doug's Sports, Waucoma Bookstore and at the arts center. One night is $9 and a two-day pass is $15; admission is free with a $35 donation to the Crag Law Center. The thirteen films focus the lens on issues that matter to local people, empowering them to protect the natural beauty of their communities. To learn more or watch the movie trailers visit www.crag.org.
Swing Fever at Columbia Gorge Hotel Oct. 18
Performing for over 33 years, Swing Fever has been on the California Arts Council touring roster, playing several hundred concerts on the West Coast. They have appeared at two Monterey Jazz Festivals and four San Francisco Black and White Balls. With band leader Bryan Gould and vocalist Denise Perrier, the band continues its passion for Swing-era dance music and jazz. Swing Fever has recorded 4 CDs, including two with legendary trumpeter Clark Terry.
Don't miss this chance to experience Swing Fever when they play the Columbia Gorge Hotel on Thursday, Oct. 18, from 7:30-10 p.m. Admission is $10 per couple/$5 single.
Crazy Eights Author Tour in Hood River Oct. 23
Waucoma Bookstore and the Hood River County Library are hosting the Crazy Eights Author Tour on Tuesday, Oct. 23, at the Hood River County Library Reading Room. The event will start at 6 p.m. and features eight Oregon authors: Bill Cameron, Robin Cody, James Bernard Frost, George Wright, Barbara Roberts, William Sullivan, Eliot Treichel and Ellen Waterson. The Crazy Eights Author Tour is the brainchild of author George Wright. His idea? A group of Oregon writers will celebrate the written word throughout the state. The result? Eight Towns, eight Bookstores, eight Events, with participation from 28 authors. For more information visit www.waucomabookstore.com.
Entertainers needed for Christmas project benefit
The Parkhurst House (2450 May Street) is looking for musical entertainment for its Dec. 15-16 Christmas wreath project event. Two time slots are available both days, from 11 a.m.-noon and 1-2 p.m. If you or your group is interested in donating services contact Terry Hamsen at 387-4600.
Jam, Trivia Nights at Clock Tower
Here are Clock Tower Ales events for the month of October
Oct 11 - Trivia Night at 6:30 p.m.
Oct 12 - Robin Greene at 6:30 p.m.
Oct 14 - Jam Night at 6:30 p.m. with Nolan, Al & Kenny
Oct 18 - Trivia Night at 6:30 p.m.
Oct 19 - Robert Richter at 6:30 p.m.
Oct 21 - Jam Night at 6:30 p.m. with Nolan, Al & Kenny
Oct 25 - Trivia Night at 6:30 p.m.
Oct 27 - Halloween Costume Party with the Tess Barr Blues Band at 7 p.m.
Oct 28 - Jam Night at 6:30 p.m. with Nolan, Al & Kenny
Clocktower Ales, 311 Union St., The Dalles; 541-296-2602.
'Salt Licks,' more at CEBU Lounge Oct. 12
Friday, Oct 12: Garett Brennan & the Great Salt Licks w/Tumbledown House 9:30 p.m. – Think: Tom Waits In A Cocktail DressCebu Lounge welcomes back Garett Brennan & The Great Salt Licks and special guests Tumbledown House, from Bozeman, MT.
Rediviva Magazine has described Brennan as "There's more to the Portland roots-music scene than an attic full of quaint old instruments and a Luddite's disdain for amplification. Filtered through the fine musical sensibilities of performers and writers like Garett Brennan and his supergroup, The Great Salt Licks."
Jeff Rosenberg of Willamette Week says "Brennan's clearly following the speak-singing storytelling style of Greg Brown or Tom Waits...if you can't afford your own mountain cabin, this album will take you right there."
Saturday, Oct 13: Will West & the Friendly Strangers 9:30 p.m. – Laid Back, Toe-Tapping Americana
Cebu regular Will West returns with his ever-shifting, all-star band, featuring Drew Norman on banjo (Professor Gall), Jeff Simpson on trumpet, Ji Tanzer (Blue Cranes) on drums, Tanner Cundy on guitar and West on guitar, harmonica and vocals.
The son of a fiddle player, Will West grew up in eastern North Carolina. Inspired by his parent's vast record collection, he began playing guitar when he was 12 years old, finding love in Old-Time Blues and Heavy Metal.
Will started to sing in early 2000 and he began to write his first original music. He finished college and moved west in the summertime of 2002. From his humble beginnings busking on downtown sidewalks and exploring open-mics, Will West has been on a steady climb in this rich Northwest music scene.
The Friendly Strangers came together as a band in 2009. Known for their friendly, easy-going vibes, they find true joy in performance and love connected with the audience.
Each show can be a unique experience, with special guests and interesting instrumental combinations.
Rollins at Gorge White House
Mary Rollins, a watercolor artist will have her art on display at The Gorge White House during the month of October. Rollins "works in watercolor, applying layers of transparent pigment to build up the desired color intensity. She obtains her source materials for paintings by bringing along a digital camera while on a field study outing —resulting in a watercolor as seen through the eyes of a naturalist."
The Gorge White House, 2265 Hwy 35, Hood River; www.thegorgewhitehouse.com; 541-386-2828.
Country dances start Oct. 13
Enjoy an evening of Country Squares, Contras, Circle dances and a few Waltzes at the Rockford Grange in Hood River. $6 for MCFS members, $7 for non-members, $1 for youth and students. Please bring snack treats for break time. Dance lessons will begin at 7 p.m. All ages welcome. No partner required. Family friendly. All dances walked through first time. The caller will be Marte Fallshore from Ellensburg Washington. The band will be the Mill Creek String Band from the Mid Columbia Gorge area.
Call Keith Harding at 541-352-7550 or Tom Hons at 541-386-5771 for further information.
Directions to the Rockford Grange from downtown Hood River:

Go west on Oak Street til you come to the 3-way at 13th and Oak. Turn left and go up the hill to the Hood River Heights. Follow this main road for about three miles. It becomes Tucker Road and makes several 90 degree turns. You will come to a 4-way stop intersection. Stop, then go straight through heading West. Proceed west for about one mile (this is Barrett Drive). You will see the West Side Fire Station on your right. The Rockford Grange is immediately past the fire station on the right.

Rich Wilkins Blues Band schedule
Catch the Rich Wilkins Blues Band at a venue near you:
Friday Oct. 12, 7-9 p.m. Bluesbridge, a duo featuring Kay Floria and Pat Haley) at AlmaTerra Wines, Bingen Wash. (www.reverbnation.com/bluesbridge)
Friday Oct. 19, 6:30-9:30 p.m. Richard Wilkins Blues Band at The Pines Tasting Room, Hood River (www.reverbnation.com/richardwilkinsbluesband)
Saturday Oct. 20, 7-10 p.m. Richard Wilkins Blues Band at The Eagles Lodge, The Dalles
Saturday Oct. 27, 6:30-9:30 p.m. Richard Wilkins Blues Band at 1301 Steak & Spirits, on the heights in Hood River
Aaron Meyer performs Oct. 27
The Columbia Gorge Orchestra Association is excited to announce that Portland rock-violin virtuoso Aaron Meyer will be joining the Columbia Gorge Sinfonietta for the first concert of the 2012-13 season for one performance only, Saturday, October 27, at the Hood River Middle School auditorium at 7:30 p.m. Mr. Meyer will be performing music arranged for his recent appearance with the Oregon Symphony, which should make for a very special evening of music.
Tickets for the Aaron Meyer performance with the Columbia Gorge Sinfonietta are available in advance at http://www.brownpapertickets.com/browse.html. Early purchase is encouraged. Tickets are $20 for adults and $10 for students and children. No reserved seats.
Join Aaron Meyer and guitarist Tim Ellis as they solo with the Columbia Gorge Sinfonietta performing their original music from their CD, "Two Sides To This Story."
Comedy Night at The Pines
At the Pines Tasting Room this week:
Oct. 11: Kerry Williams & Co 6:30 p.m.
Quench your thirst and musical cravings Thursday night at The Pines. Join Kerry Williams and his musical compadres as they rock The Pines with their impromptu solos and smooth vocals. Dance to the music of Kerry and his compadres, have a glass of wine, and chat with other music-lovin' locals.
Oct. 12: Comedy Night with Ron Funches and Ian Karmel 8 p.m. Enjoy another evening of non-stop laughter at Comedy Night at The Pines. This show is 21+ Only $10 in advance $15 at the door. Call the tasting room at 541-993-8301 for tickets. Doors open at 7 p.m. Seating is first come first serve.
Jazz Theater at 301 Gallery
The Gallery 301 hosts the Hood River Jazz Theater Friday, Oct. 12, starting at 5 p.m. On Saturday, Oct. 13 we have Dennis Castanaris with his 6 and 12-string guitars playing classic covers for a fun afternoon starting at 3 p.m. Check out new artist Leah Hugon's mixed media display. The Gallery 301, corner of Oak and Third downtown Hood River; 541-436-0281.
Entertainment listings can be e-mailed to jdrake@hoodrivernews.com