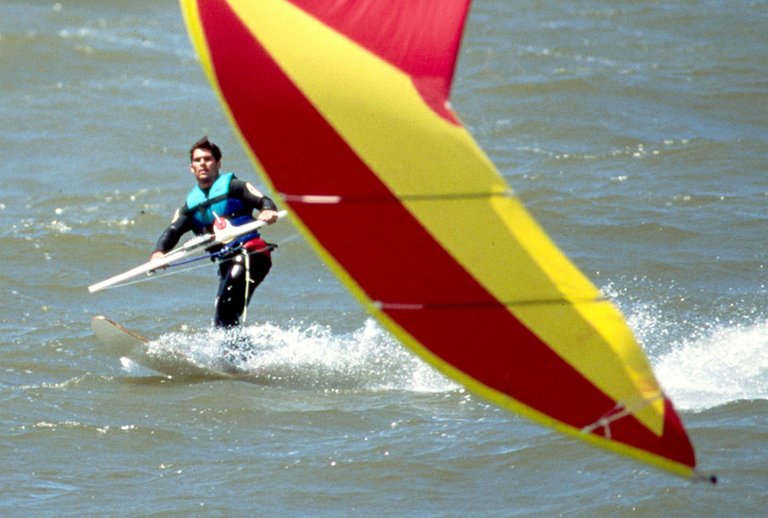 Who invented kiteboarding?
There were plenty of early pioneers and brave souls who risked life and limb on experimental gear to carry the sport forward, but who was the first: who gets credit for inventing the sport we now call kiteboarding?
The answer will almost surely depend on where you ask the question.
Perhaps Bruno and Dominique Legaignoux, Ian Day, Dieter Strasilla or Peter Lynn, if you're asking in France, Germany or New Zealand. In Hawaii, props might go to Laird Hamilton, Manu Bertin or Lou Wainman, not for inventing the sport, but certainly for bringing legitimacy.
Ask around the Gorge, and one name will rise above the rest.
Cory Roeseler.
"Who invented kiting? Maybe it's a question, maybe it's a statement," Roeseler said this week. "I'll put the story out there and let the audience decide."
"Cory Roeseler: Roots of Kiteboarding" is the topic of the Columbia Gorge Earth Center's next Sense of Place presentation. Join Roeseler and CGEC staff for the second lecture in the annual series on Oct. 16, 6:30 p.m. at Springhouse Cellar in downtown Hood River. Roeseler will share stories, photos and home videos of the very earliest days of kiteboarding; when he and his father used the Gorge as a testing ground for gear that would eventually inspire an entire industry and a mainstream global action sport.
Here's a teaser of the lecture from www.cgec.org:
"When Cory Roeseler's father, Billy, drew up plans to tow a waterskier with a kite, Cory's sense of place was hardly Gorge-like. Cory mowed lawns to buy boat gas to fuel his waterski obsession on Lake Washington. He hated the wind, as it rendered the lake unskiable, and winters dragged in suburban traffic jams with folks who only dreamed of living close to nature.
"At first, the wind resource in Hood River served only as an R&D necessity to power the Roeselers' undersized kites. But then the inspired windsurf culture of the '80s and the timelessly grounded agriculture community grew on him, and Cory decided that Hood River was the ideal place to work, play and raise a family of his own.
"Kiting in the '80s and '90s presented challenges, starting with the fact that no gear existed, and ending with the reality as a new sport, there was a complete lack of instruction. Self-taught, with plenty of mis-steps interspersed with sputters of progress, the Roeselers learned to do by doing and to celebrate failure at least as much as success.
"Join inventor Cory Roeseler as he shares stories, photos and home video clips of his pioneering efforts that led to what we know today as the sport of kiteboarding, and as he challenges you to participate in exploring the future of wind-sports."