Wednesday, October 10, 2012
Crossing boundaries in four one-acts
New directors explore human landscapes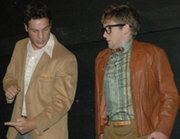 Shows run Oct. 11, 12, 13, 18, 19, 20 at 7:30 p.m. and Oct. 14, at 2 p.m. Tickets at Waucoma Bookstore, online: showTix4U.com or at the door. $15 adults, $12 seniors/students, $8 under 12. Total running time 2 hours 20 minutes with intermission.
The subject is boundaries in "An Evening of Four One-Act Comedies," the 35th season opener for CAST, starting Oct. 11 at Columbia Center for the Arts.
Three of the plays feature new directors. Explicitly or in nuanced ways, all four plays examine one or more types of borders — emotional, political, involuntary and designed — confronting the human condition.
The four plays cross new lines, some more than others, and several of the actors take us into what feels like new territory for them. Thematically the plays as a whole invite audiences to experience territory rarely explored.
"My Cup Ranneth Over," by Robert Patrick, directed by Bruce Ludwig
The title plays on both a telling sight gag (one that proves to be more than slapstick) and the easily tippable balance of emotions between friends.
The borders here are the swiftly shifting lines between friendship and rivalry, support and jealousy. CAST regulars Clara Cook and Kim Robichaud connect in this comic yet sobering examination of disconnections, in which a telephone emerges as the third character. First-time director Bruce Ludwig makes good use both of his performers and some strange props: cassette tapes, manual typewriter, and 10 feet of telephone cord that Cook and Robichaud wield as both binder and border.
"Incident at the Border," by Kieran Lynn, directed by Gary Young
Three actors (who all live across the river in White Salmon) deftly manage a farce in which allies become foes, authority figures switch to captives, lovers mix politics and passion, guards become referees, and a literal yellow piece of tape splits the whole scene with the arbitrariness revealed to typify all borders.
Pinning down where each person falls on which side of the border is about as difficult as separating ducks on a pond. Kathy Williams, April Griffith and Joe Garoutte hilariously show us why. Williams, also a veteran stage manager, nails the deadpan earnestness in her largest performing role yet with CAST. Griffith and Garoutte help this play cross easily back and forth between political and domestic satires.
"Dead Man's Apartment," by Edward Alan Baker, directed by Kathleen Morrow
Here the borders are the lines one would cross to fulfill dreams and erase dashed hopes.
In the hardest to predict of the four stories, David Dye as "Lonnie," is aligned, and then at odds with, an ill-fated lover, Lisa Baisden-Roth, her daughter (Emma Spauilding) and her brother (Bob Fox). Morrow is directing for the first time, and all four of her actors are familiar CAST faces.
The borders that trip up Lonnie are ones he had laid down, and by the end those who seem to oppose him have shown him that the one true threshold he should cross is the one he thought he had forsaken.
"Ledge, Ledger, Legend," by Paul Eliot, directed by David Fox
This black comedy features a cameo by Fox's brother, Bob. The rest of the play belongs to Jake Camp as a man who has decided to jump from a building, and Jonas Grosserhode as a suicide consultant ready to help him "succeed."
Note: This satire on suicide is about as dark a comedy as has been seen in CAST in recent memory. Grosserhode plays it salesman-slick and Camp feels like the depressed boy next door, both of them dryly finessing the many funny lines, but the subject is, after all, suicide, and while the tale is ultimately redemptive, the path it takes is vividly discomforting.
In this case, the boundary it crosses is perhaps the most sensitive of all, and one worth the trip.