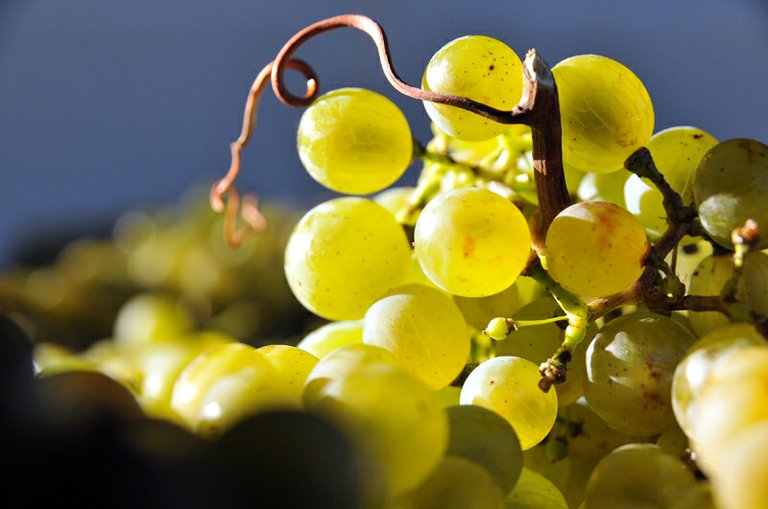 Pinot Noir. Riesling. Syrah. Tempranillo. Gewürztraminer. Chardonnay. Zinfandel. These exotic pronunciations roll off the tongue with luxurious sensations, very much like the ultimate product of these fruits, after they've been pulled from the vine.
Wine.
Hood River, home to a bountiful bevy of up-and-coming vineyards, is in the middle of "the crush" — otherwise known as harvest season for grapes.
While not every variety listed is grown commercially in the Valley, all are currently pressed at one of the local wineries, where sweet grape elixirs of varying hues are just now filling up barrels and tanks awaiting their fates.
Some varietal juices are staying for the full vine-to-bottle-to-table journey, while others will be shipped back to the vintners who grew them for the bottling process.
For Mt. Hood Winery and Bickford Vineyard owners Steve Bickford and his brother Don, and winemaker Rich Cushman, "the crush" is the culmination of a year's worth of hard work, anticipation, experimentation and luck.
"We have 25 acres in grapes," said Steve Bickford. "We also still have 110 acres of pears and 15 in apples. We have Riesling, Pinot Noir and Pinot Gris and some new Chardonnay." The Bickford orchard and vineyard is located on the west side of Highway 35 on a spectacular plateau above the Hood River.
The family's property is part of an officially recognized "century farm," meaning the family has been farming continuously there for over 100 years.
"We are the fourth generation," said Bickford referring to himself and his brother. "My daughter Merridy and her husband, John Stehlik, are the fifth on the farm." Bickford's son-in-law John is now working alongside the Bickford brothers in the operation of the diversified farm and vineyard. And this week, all hands are on deck for harvest.
It has been a journey for this long-established farming family to transition from tender pears and apples to raising — what Bickford likes to call — "weeds with fruit." In his very understated way, Bickford is telling the truth about grapes — a scrappy plant that prefers a bit of suffering in order to produce the best fruit.
"We haven't fertilized them in 10 years. We don't water them after they're established. We hedge them," said Bickford, as he outlined the way in which rugged deprivation forces the plant to send energy into the fruit instead of the leaves or vines.
Similarly, while soils in this valley might be viewed as a bit "too good" for the average grape vine, Bickford, like any good farmer, knows how to coax the best from the land he has been entrusted with.
"We struggle to slow them down." Then again, struggling with soils and the complexities of farming is what the Bickfords do best.
As Steve walks along a row of Pinot Noir grapes being carefully collected by a team of eight men, he points out an apple tree shoot sprouting in between the orderly rows of green and browning vines.
"That is coming up from the old apple tree roots. We pulled out our Newtowns here. They just weren't fun any more," said Bickford as he described his first foray into planting grapes in 2000. Bickford's described lack of "fun" was in part referring to the fact that Newtown apples dropped from favor in grocery store sales and profits were hard to come by as a grower.
Ultimately, that bit of hard luck prompted Bickford's curiosity about grapes and winemaking.
"A friend called me up and said, 'Do you want to try putting in some grapes?' and I thought maybe I'd try it. We put the Pinot Noir and Pinot Gris vines in and had our first harvest in 2003."
Winemaker Rich Cushman, also a Hood River native and former high school classmate of Steve's, joined the Bickford's viticulture-winery team after honing his enology skills for 25 years in the Willamette Valley.
"This place has everything a winemaker could want!" said Cushman in the exuberant voice of a many who has found the right career for himself alongside the right people.
"We've got space, a wonderful cold room, forklifts, equipment, a lab, a covered work area," said Cushman, who takes the lead in crafting the many varieties of wines produced by Mt. Hood Winery and his own label, Viento Wines.
"Everything is off to a good start this year," said Cushman, who also acknowledges that crush is a time where "everything is on the line" in winemaking. "You can't get sick; you can't be too tired …" said Cushman.
"And you can't be grumpy," added Bickford.
The two men laugh at the obvious inside joke, stemming no doubt from the many late nights and early mornings spent bringing in the grapes, testing the sugars, coddling the precious juice and beating the worrisome weather, during the one month stretch covering harvest, pressing and processing.
For all of the many other small viticulturists and winemakers in the Hood River Valley, these next few weeks are the time of hard work and celebration. For visitors and locals, celebration is at the heart of the harvest.
As the pair checks in on their "Europress" in the midst of converting 3 tons of Riesling grapes into 400-plus gallons of succulent, ocher-colored juice destined for the settling tank, Cushman brings out the refractometer — the measuring instrument which tests sugar concentrations in the juice.
"Wow!" said Cushman to Bickford. "We've got 22 Brix! — now calibrate that!"
For winemakers, that enthusiasm is understandable, along with the vocabulary. It means that this year's Riesling crop at Mt. Hood Winery is coming in with great sugar content — creating the potential for a stellar vintage.
With rainstorms predicted to begin this weekend, the Bickfords and Cushman, along with every other grapegrower in the Valley, are pushing to bring in the last of the fruit.
Luckily for the average winery patron, the struggle and science behind the final delicious glass of jewel-toned liquid is just part of the mystery that increases the enjoyment of that tantalizing result.