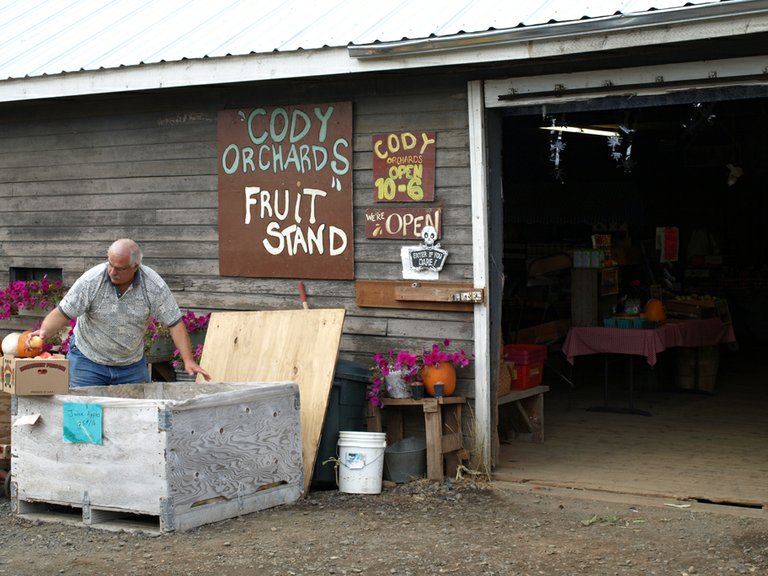 Tuesday, October 16, 2012
I first went to Cody Orchards Farm Stand because I know the owners, Glen and Donna Cody, having been Glen's classmate at Hood River Valley High School.
But what has kept me coming back is Donna's amazing cheerfulness, helpfulness and knowledgeability on every aspect of fruit, and the sheer variety of things the stand has to offer. And it's always a fun visit.
The stand is Donna's "baby," and opened in August 2008 in a former fruit-packing barn. It has evolved from a long, mostly empty space to a long, every-inch-filled treasure trove of fresh fruit, jams, honeys, ciders, pies, fresh flowers, antiques, handmade crafts and many gift items.
As stop number 11 on the Fruit Loop map, Cody's participates in all of the major Fruit Loop events, including the upcoming Harvest Fest, Oct. 20-21. Special activities this weekend will include a cake walk (every half hour), piñatas, orchard tours (either a hayride or walking tour, depending on the weather) and more.
Visitors come from all over the state — and country — to the rustic old barn, for the fruit and for the whole experience. On a recent weekend, the Chard family of Canby — Ken, Jen, Mairen and Jamison — stopped by after a swim meet for some U-pick apples.
Donna took them on a short walk through the orchard to the striped Delicious trees, explaining to the family how that variety is the one that chosen for its flavor, and blended with another, prettier apple variety to create the Red Delicious.
"They may not be as pretty, but they taste great!" she told the family. She also pointed to a row of "Mystery Apples," ones that turned out to be different than what she and Glen thought they were planting.
"We don't know what they are, but they're really good," she said.
She gave the Chards instruction on picking apples: "Lift upwards so that the apple comes off easily; don't pull down or you'll be taking the bud for next year's fruit with it!" she laughed.
Jen Chard said the family first came to Cody's a couple of years ago after asking local friends and family for a recommendation.
"They said this is the 'insider' place," she said. "And Donna is so knowledgeable and so nice; we always feel so welcome. Now we tell all our friends: 'Come to Cody's.'"
Only a few weekends remain in the 2012-13 season, and the next two are busy ones: Harvest Fest weekend is followed by the Fruit Loop's Heirloom Apple Days, Oct. 27-28. Cody's will remain open until Nov. 21; after Thanksgiving it will offer self-serve-only, weather permitting.
*
Cody Orchards Farm Stand is located at 3475 Graves Road, just off Highway 35, where the Odell Highway (OR 282) meets Graves Road. Hours are 10 a.m. to 6 p.m. Monday through Saturday; noon to 5 p.m. Sundays. November hours will be 10 a.m. to 5 p.m. For more information contact Cody's at 541-354-1085 or codyorchards@hrecn.net or visit www.codyorchards.com.