Tuesday, October 16, 2012
Acrobat show scheduled Nov. 1
Columbia Center for the Arts presents a unique world music and dance performance with the Nanda acrobaticalists on Thursday, Nov. 1, at 7:30 p.m. at Hood River Middle School. Nanda's show, titled "The Jacket," is teeming with juggling, acrobatics and martial arts. The show combines comedy and irreverent pop-culture references for an entirely original performance.
Tickets are available online at www.columbiaarts.org, at Columbia Arts, 215 Cascade Ave., and at Waucoma Bookstore in downtown Hood River. Ticket prices are $20 for adults, $15 for students and seniors, $12 for children 11 and under.
The Marvins at Everybody's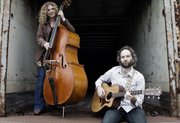 "The Marvins have been an active force in the rebirth of the folk-rock scene in Detroit. The singing/song-writing duo of Peter LeClair and Carmen Paradise have been at work for 15 years, bringing their unique blend of various genres through the organic delivery of their acoustic instruments, honest lyrics and earthy voices. Whether it is influenced by rock, pop, jazz, hip hop or bluegrass, or all of the above, their music always has a way of making the listener feel like they have known them as family their whole lives." Friday, Oct. 19, 9:30 p.m., no cover charge. Everybody's Brewing, 151 E. Jewett Blvd., White Salmon, Wash; 509-637-2774.
Barlow Road at Trout Lake Inn
The infamous Americana band Barlow Road will be playing this Saturday, Oct. 20, at the historic Trout Lake Inn. Show starts at 9 p.m. and there will be a $5 cover. Trout Lake Country Inn, 15 Guler Road, Trout Lake, Wash.; 509-395-3667.
Rich Wilkins at The Pines
This week at The Pines Tasting Room in Hood River:
Thursday, Oct. 18, 6:30 p.m. Kerry Williams & Co.
Quench your thirst and musical cravings Thursday night at The Pines. Join Kerry Williams and his musical compadres as they rock The Pines with their impromptu solos and smooth vocals.
Friday, Oct. 19, 6:30 p.m. Rich Wilkins Blues Band.
Come in and dance the night away. Rich and the crew play a great selection of dance music — you won't want to leave the dance floor!
Shook Twins at CEBU Lounge
This week at CEBU Lounge:
Friday, Oct. 19: Brothers Young 9 p.m. – Anti-Anti Folk Rock
The Brothers Young is a band which features three actual brothers, actually named "Young." The group, formed by Dustin, Michael and Dillon, often sing in a baritone unison, of world-weariness, caution and betrayal — sometimes bursting into open-ended Gregorian harmonies.
Saturday, Oct. 20: Shook Twins 9 p.m. – Quirky Folk
Born and raised in Sandpoint, Idaho, Shook Twins are a quirky folk band now hailing from coniferous forested Portland. Identical twins Katelyn and Laurie Shook and Kyle Volkman form the core trio. Central elements of the Shook Twins sound include banjo, guitar, upright bass, mandolin, face drum (beatbox), glockenspiel, ukulele, djembe and their signature golden egg. Best Western Hood River Inn, 1108 E. Marina Way; 541-386-2200.
Entertainment listings can be e-mailed to jdrake@hoodrivernews.com.