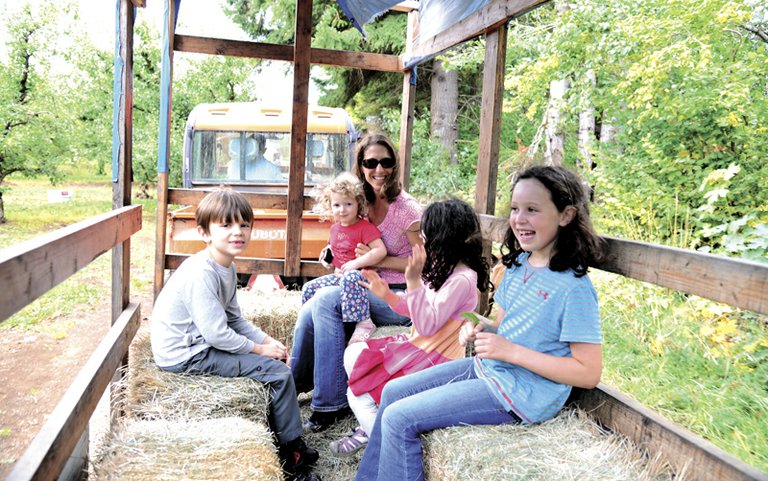 Tuesday, October 16, 2012
For me, a trip to Mt. View Orchards is a trip down memory lane.
Parkdale was my stomping grounds, and the Trout Creek Ridge Road farm and fruit stand was just up the street; past a few hay fields, a couple notorious bike-chasing dogs, some noisy neighborhood chickens and a ginormous bull that would charge the fence if you got too close.
The 50-acre orchard is owned and operated by the McAlexander Family, with Ruth and Lyle at the helm for about the last four decades. When I was a kid, Ruthie gave me one of the first jobs I ever had, outside of mowing lawns and bucking hay for neighbors. The official Fruit Loop didn't exist yet, but the farm stand was still a popular stop for people on their annual autumn pilgrimages around the valley in search of farm-fresh fruit and produce.
I can't remember everything I did at the farm, but for sure my best memories are of operating the cider press (and taste-testing juice) and driving a four-wheeler through rows of trees in search of whatever variety apple or pear the farm stand was low on. Picking the fruit, if I recall correctly, wasn't nearly as much fun.
A stop at the farm this weekend yielded a number of pleasant surprises, including something I haven't done for probably 20 years but used to absolutely love when I was a kid: hay rides through the orchard.
I don't know what it is about taking a bumpy, dusty ride behind a tractor while sitting on scratchy bales of straw that I find so appealing. I'm even allergic to hay.
It must be the nostalgia; the true country-boy memories it brings back of afternoons spent wandering through orchard rows as young explorers; playing hide and seek and capture the flag, catching butterflies and grasshoppers, playing water-wars with the big metal sprinklers, telling scary stories in the dark and, sorry mom, partaking in the most unruly rotten pear fights imaginable.
I remember as a kid, I always wanted to live in Hood River. Life seemed so slow and boring growing up in the country. My family didn't own a farm; I just was just surrounded by them. What fun and crazy things were those lucky city kids doing down in Hood River? I felt like I was missing out on something, living waaaaaaaaayyy up in the sticks.
That angst is all but gone now, and I relish any chance I can to spend time in the country.