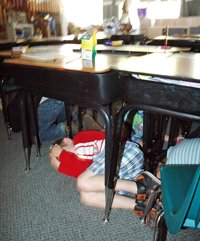 Students stopped and dropped everything. Thursday morning at May Street.
The occasion was The Great ShakeOut Day, an earthquake-awareness drill at schools throughout the state, organized by the state Office of Emergency Management.
At 10:18 on Thursday, Oct. 18, the fire bell went off and kids calmly got under their desks and covered their heads, as they had been instructed.
The entire student body then filed from the building in an orderly way and gathered by class on the playground.
There, all students, staff and visitors were accounted for within five minutes after the bell, according to Principal Kelly Beard.
The event coincided with the annual Hood River Fire Department fire safety visit, in which kids learned about fire safety, and got to go outside and, with the help of firefighters, hit "flame" targets with a fire hose.