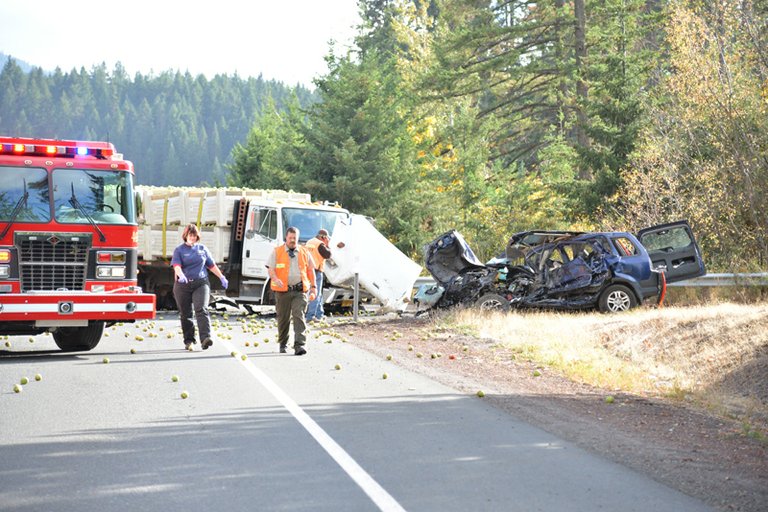 Oregon State Police troopers are continuing the investigation into Tuesday afternoon's fatal traffic crash that resulted in the death of 18-year-old Savanna K. Holloway, of Cascade Locks, along Highway 35 about 10 miles south of Hood River.
Holloway was a graduate of Hood River Valley High School in 2012 and attended Parkdale Elementary and Wy'east Middle School. According to the OSP, she had recently been attending Columbia Gorge Community College.
Remebering Savanna
Savanna Holloway, a 2012 Hood River Valley High School graduate, touched many others' lives before her death on Tuesday.
Savanna's parents, Sheri and Scott Holloway, issued this statement on Thursday:
"We are deeply saddened by the tragic loss of our daughter Savanna, who died in an auto accident on Highway 35 Tuesday, Oct. 16, 2012.
"We want to thank family and friends for all of their tireless help, support, love and prayers we have received. We want Nicholas Laurance to know that our thoughts and prayers are also with him and his family. It was a tragic accident that he could not have avoided."
Savanna was active in FFA and the Eagle wrestling program. Members of both groups met Thursday to grieve together and to talk about ways to help the family, said Trent Kroll, wrestling coach at HRVHS.
"Savanna was a member of our statistics crew from her freshman year through her senior year," Kroll said. "She spent evenings and weekends doing the jobs you don't often get much attention for: scoring, compiling, helping at tournaments and quietly taking care of more details than we can list.
"She was always there in the right time and place, usually working in supporting others and giving others an opportunity to shine.
"Right now our thoughts are with Savanna's family and those close to her."
The HRVHS Stat Crew has decided to begin a memorial scholarship in Savanna's name.
Hood River Alliance Church will be hosting the service for Savanna at noon Saturday, Oct. 20, with a reception to follow. The address is 2650 Montello Ave. (at the corner of Rand and Montello). Desserts or salads for the reception would be appreciated.
Contributions to benefit the family can be made in care of the Hood River Alliance Church, Anderson's Tribute Center or May Street Elementary School.
On Oct. 16 at approximately 3:10 p.m., a 2004 Honda CRV sport utility vehicle driven by Holloway was trying to access Highway 35 from a gravel driveway on the east side of the highway, according to OSP Sgt. Les Kipper's initial information release on the crash.
According to Senior Trooper Mark Jubitz, who was on the scene within minutes along with Patrol Trooper Brent Ocheskey, the accident occurred just a few hundred feet south of milepost 92 near the Saw Tooth Roadhouse restaurant.

According to OSP, when Holloway entered Highway 35, she pulled in front of a northbound flatbed truck loaded with pears and the truck collided into the driver side of Holloway's Honda.
The flatbed truck's driver, Nicholas V. Laurance, 29, of Mt. Hood-Parkdale, was not injured.
Holloway was pronounced deceased at the scene.
Jubitz confirmed an additional driver was involved in the accident, but was uninjured. The third driver's commercial truck and trailer — hauling wood chips — was traveling southbound on Highway 35.
Following the crash with Holloway's vehicle, Laurance's truck also reportedly struck the wood chip truck and trailer. Both Laurance and the commercial driver were wearing safety restraints.
As of press time, additional crash details were still under investigation. A final crash report, according to Jubitz, should be issued within a week.
"The crash report is divided up among several troopers," said Jubitz. "With a fatality there are several components.
"Trooper Ocheskey will be writing the crash report and has interviewed a subject. We have called in a traffic reconstructionist technician who will diagram the scene. Another trooper has conducted an interview with the second subject. I have another section of the report. All portions will have to be completed before the report is issued."
Public reports posted on social media indicating that Holloway may have been in the area prior to the crash trying to recapture loose farm animals are still unconfirmed.
OSP troopers from The Dalles Area Command office are continuing the investigation. Senior Trooper Brent Ocheskey is the lead investigator.
OSP was assisted at the scene by Hood River County Sheriff's Office, Parkdale Fire Department and ODOT crews.
Arrangements for Holloway and her family are being handled by Anderson's Tribute Center.
n
Oct. 14-20, 2012, is designated "Teen Driver Safety Week" nationally and in Oregon. Gov. John Kitzhaber signed a proclamation designating this week as "Oregon Teen Driver Safety Week." Additional information is available on the National Highway Traffic Safety Administration website at http://www.nhtsa.gov/Teen-Drivers.
According to the Oregon Department of Transportation, Oregon drivers under age 20 were involved in crashes at more than twice the rate of the population as a whole. According to the National Highway Traffic Safety Administration, young drivers ages 15-20 are especially vulnerable to death and injury on our roadways — traffic crashes are the leading cause of death for teenagers in America.