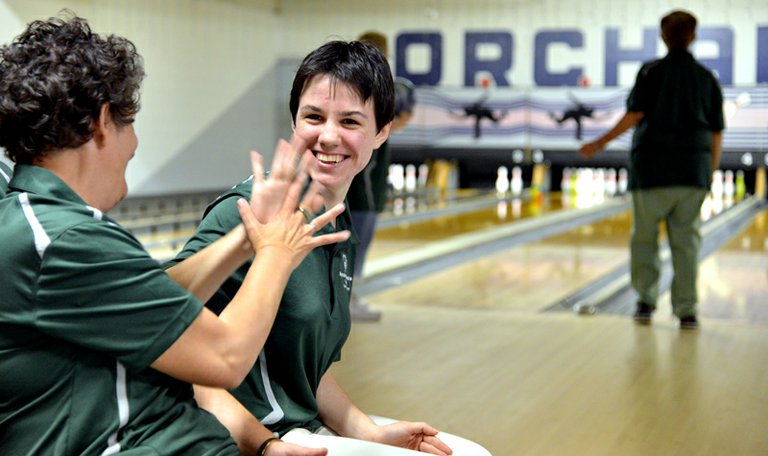 Tuesday, October 23, 2012
Bud Pounders wipes the sweat off his hands and grabs a bright blue ball from the carousel. He's bowling in loafers, not the tri-colored slick-bottom shoes designed for sliding across the hardwood; but for his between-the-legs delivery style, this footwear is ideal.
He steps up — toes on the line — and tosses his ball down the lane. It's a mean hook on this roll, and despite having the bumpers raised to prevent gutterballs, Pounders' ball manages to sneak his ball around the outside of all 10 pins. He knocks over respectable eight pins the next roll to rescue the frame from a double goose egg; it's high fives all around for that toss.
A couple lanes down, Mariah Langer and Esther Simmons are having similar luck. The two Hood River Special Olympics team members have been practicing for several weeks at Orchard Lanes, and although their scores have improved, the infamous gutterball shows up from time to time. And it does not help that they're bowling alongside John Owre, who has by far the strongest throw on the team.
Hood River's Special Oylmpics bowling team is 34 players strong this season, with members ranging in age from 12 to 70. The team practices every Monday for 12 weeks leading up to a regional competition in November.
"Right now the team is getting ready for Bowling with the Cops; they look forward to it all season," said Anna Schwebke, team coordinator. "After that they have regionals, which is a against teams from all over the Northwest."
Bowling with the Cops is a fundraiser the group does every year to raise money for team and traveling expenses. HRSO team members collect pledges from the community, either in flat donation or by score, and spend an afternoon (Nov. 5) bowling with/against law enforcement officers from around the county.
"Before bowling they competed in track and field and bocce ball; after this season they move on to skiing and swimming," Schwebke said. "For many of our members, this is basically the only chance they have to get out and socialize with friends. Special Olympics provides an opportunity to build confidence and a sense of self-worth that many don't usually get in their day-to-day lives."
HRSO team members will be out in the community campaigning for pledges leading up to Bowling with the Cops. Anyone who would like to sponsor an athlete is asked to contact Schwebke at: aschwebke@charter.net. Additionally, Schwebke said coaches are always in demand. Anyone interested in volunteering to coach can contact her for details.
Team business sponsors are also being sought and can inquire at the same email. Schwebke acknowledged the following businesses for their recent support:
Rosauers Supermarket, Full Sail Brewing, Orchard Lanes, Doug's Sports, Dairy Queen, Walgreens, Papa Murphy's, Pietro's and Domino's Pizza.