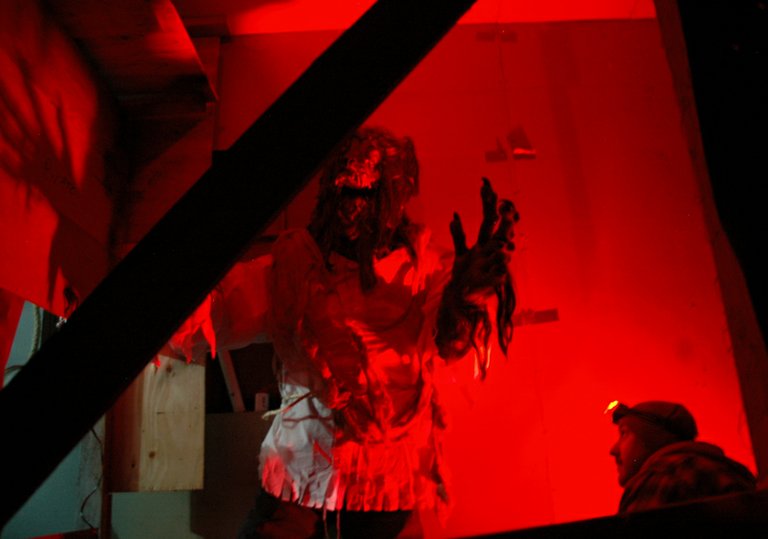 Tuesday, October 23, 2012
"You should be afraid of the dark" is the fitting theme behind the annual Haunted House for Muscular Dystrophy Association.
Starting Friday, the eighth-annual Halloween tradition will be back, by popular demand, at the 2011 location, the former E&L Auto Parts, on 12th Street just south of May Street. Admission is $5, with all proceeds for MDA. Last year the haunted house raised more than $5,500.
Dates are Oct. 26-27 and Oct. 31, from dusk to 10 p.m.
"If you're in line at 10 we won't kick you out," said founder and frightmeister Paul Henke.
But you may wish they had.
Henke and friends have filled the old E&L building and a neighboring house and yard with scary set pieces and places for ghouls to surprise and "attack."
The 15-20-minute scare stroll will have shocks and chills, Henke promised.
He noted one change this year: no child (or adult) who has to be carried will be allowed in.
"We always try to do some new things," said Henke, but visitors may see some familiar scares — with something new about them.
He cited "The Dark Room" and "The Clown Room," and said there will be one room where nothing — apparently — happens. Or so you think.
"You might recognize the prop, and I'm hoping some people will say, 'I saw that a few years ago,' and expect it to be one way, because there'll be something more."
"It's a lot more intellectual, with mind games, tricks, illusions," Henke said. "It will be plenty scary. It's not for the timid."
The haunted house almost didn't happen. It moved from its original home, the city public services facility on the Heights, to a home at Pacific and 12th streets (now demolished) and then to the E&L property, at 12th near May, owned by Providence Health Systems.
Providence granted Henke and company use of the E&L property, but Henke thought it would be a one-time deal, with the buildings slated for demolition as part of Providence's long-term expansion plans.
"In July, people out of blue started asking me to do it again, and I was saying 'I don't know.' But Providence offered to let us use it again and I said, 'Alright, I'll do it again.'"
He joked, "Eventually I'm going to run out of buildings."
Part of his agreement to revive the undead again was based on others stepping up and doing more, which, like a grisly instrument seen in his creation, was a double-edged sword.
"It seems to be working out a lot better, easier for me, but it's a lot of work for me to let someone else do it," Henke said.
"It's hard to let go, when I have this vision," he said, "but it was 'Well, this is what I want, you said you'd do it, I hope you'll pull through.' And people are."
He said many hands make fright work, but he added that fellow firefighters Dave Smith (whose daughter, Ellie, has a featured role), Nathan Smith and Ellen Dittebrandt have been his primary conspirators.
He is confident the haunted house will fulfill its role this year.
"Every year I try to do it better and outdo myself; this year I can say this is really going to be something if it all comes together."