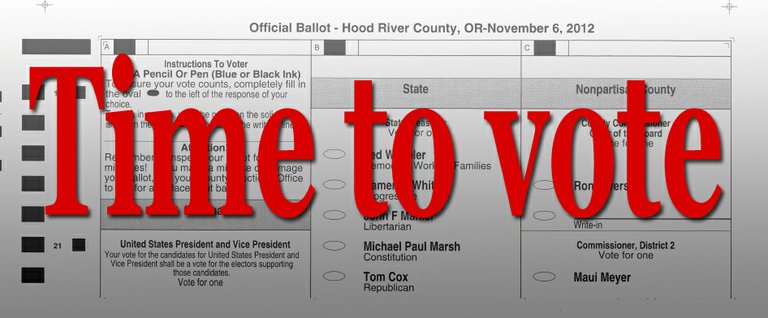 Tuesday, October 23, 2012
Here are a few things to remember about casting your vote:
Ballots must be in by Nov. 6, 8 p.m.; postmarks don't count.
Nov. 1 is the last day to mail a ballot — to be sure it will be counted.
Make sure to sign the ballot envelope with your name on it. Don't sign any other ballot envelope; it could invalidate it.
If you have updated your address or moved, you need to re-register at the County Elections Office, 601 State St., 8 a.m. to 5 p.m. weekdays.
Hood River City Council Candidate Q & A
Meet the candidates:
The four people running for Hood River City Council have come as close to running as a team as any opponents in recent memory.
The quartet has made several joint appearances at Gorge Grown Food Network farmers market, standing at one table to answer questions from the community.
Laurent Picard and Kate McBride are seeking re-election to City Council, and Marc Zanmiller and Nikki Hollatz are running for council for the first time, though both have experience on other local panels. Hollatz serves on the City Planning Commission and Zanmiller is a 15-year member of the Hood River County Parks and Recreation Board of Directors.
The Hood River News asked each candidate to answer six questions about their view on the city and what they want to accomplish.
Below are brief biographies provided by the candidates:
Nikki Hollatz, a five-year member of Hood River Planning Commission, moved to Hood River eight years ago after she graduated from the University of Washington.
Hollatz started working for Skamania County shortly after she moved, and that is where she works.
"I worked as a land use planner for six years, and more recently have held the position of Environmental Health Specialist with the Community Development Department.

"My husband and I could not think of a better place to be raising our two children, Hudson (5) and Hazel (3), and we enjoy being actively involved in the community."
Kate McBride was appointed to City Council in January 2012, and had served on the Hood River City Planning Commission for seven years, approximately two of those as the chair.
She was born in Hood River and has lived her whole life in the county. For the last six years she has worked for Friends of the Columbia Gorge, as its Land Trust Manger. For 12 years previously she worked in real estate sales.
"When my daughters were attending public school in the county I was co-chair of the parent teacher organizations for several years and served on the high school site council. I became involved with land use planning on a larger scale, when the 50,000-square-foot footprint ordinance was passed by the City and the Wal-Mart Super Store was proposed in the county in 2001."
Laurent Picard was appointed to Hood River City Council in 2005, and elected in 2008.
He has worked as a paramedic for Portland Fire and Rescue for 16 years, and has lived in Hood River for 14 years
His interests include: cooking using local ingredients, travel, hiking, biking, skiing and kiteboarding.
Mark Zanmiller moved to Hood River in 1991. Married since 1984, Kym ("teacher and volunteer extraordinaire") and Mark have two daughters: Jordan, 22, is an environmental scientist, and Alice, 20, is a junior at Cal Poly SLO, studying community and regional planning.
Zanmiller grew up in Minnesota and lived in multiple states prior to graduating from the University of Wyoming with a bachelor's degree in electrical engineering.
Zanmiller has worked in the Hood River small company/high-tech world since arriving here, first as an engineer and head of hardware engineering at ANPC from 1991 to 2002; transitioning from engineering to technical sales and marketing for Cloud Cap Technology into 2011; and as director of business development at Sagetech until mid-2012 when he started Dog River Concepts as a business development services consultancy. He is contract director of business development for SightLine Applications.