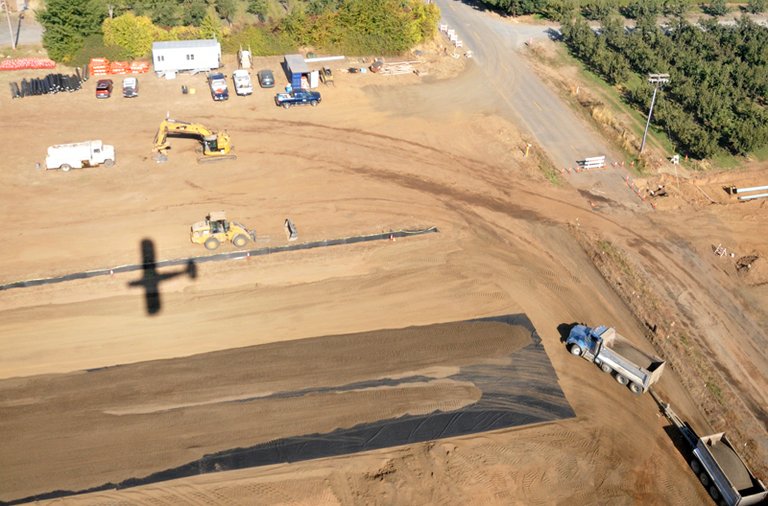 Construction work on shifting the runway at Hood River airport is about to wrap up this fall and the Port of Hood River says work so far has been slightly ahead of schedule.
"They are ahead of schedule; they got a lot of work done in a short amount of time," Port Director Michael McElwee said of the pace of construction.
McElwee credited good weather lasting deep into October for allowing construction to proceed ahead of pace.
The main portion of the fall construction schedule was wrapping up Friday, with minor trenching work continuing for the next month before construction shuts down for the winter.
That does not mean that there have not been a few bumps in the road, however.
McElwee said there have been reports of difficulties getting people used to the new arrangements.
"When you sever Orchard Road there are travel behavior changes," McElwee said.
A new farm access road has been created to allow use by orchardists, one of the conditions the county placed on allowing the vacation, but arrangements for access to that road are being finished this week.
The arrangement had led to some confusion on the part of orchardists and other drivers over using the farm access road and even Orchard Road itself, but McElwee said he was hopeful any confusion would be cleared up soon.
"It's a process of changing travel routine," he said.
Port Development Director Steve Burdick said that two large gates would be placed on either end of Orchard Road along with barbed wire to prevent people from driving through the vacated section.
"People were coming down and saying they shut off Orchard Road but left a way around just for me," Burdick said.
He added that he knew of a few instances of people driving through the orchards in order to avoid the turnarounds.
"But for most people, the gates and barbed wire should be enough," he said.
Gates are already in place at either end of the farm access road and Burdick said that orchardists would be given keys to the gates to allow them access.
This weekend the grass runway will be reopened.
Construction will begin again in full force in the spring.