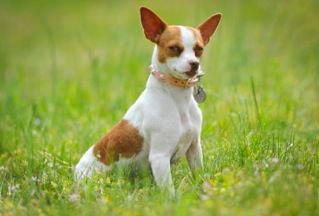 This week volunteers at Adopt A Dog have selected Chickadee as the program's adoptable pet of the week. They describe her as follows:
"My little Chickadee! She's SUCH a sweet thing! Chickadee is about 2 years old and a Chihuahua mix. She's one of those take-it-slow type of dogs with a bashful, gentle side and usually keeps her distance when she meets new people; but she does eventually relax a bit and then will wiggle her little tail over for a nice pet or cuddle.
"And she loves to go on car rides and walks. That's where she really cuts loose and does her best to keep up with the other dogs.
"Chickadee gets a lot of courage from the dogs in her foster home, and even tried to play fetch once, until the ball rolled away and that made her re-think the adventure! But she keeps trying and often gets the other dogs all together for a game of chase.
"She has the heart of a lion; she just doesn't know it yet! Every day, Chickadee discovers her inner spark a little more and her determination usually wins out.
"Chickadee would be happiest in a home with no small children — they would just be too active for her. But a home with other dogs or older kids would be divine. And she'd like a family who is generous with lap time and patience."
Chickadee is spayed, current on shots and micro-chipped. The adoption fee for Chickadee is $185; cash or check only, please. The adoption fee is charged to help recover standard average veterinary expenditures for each dog.
Please call ahead to meet Chickadee at the Hukari Animal Shelter, 3910 Heron Drive, Odell; 541-354-1083. Adoption hours are Wednesdays from 5-7 p.m. and Saturdays from 9-11 a.m. Applications may be downloaded at www.hood-riveradoptadog.org and faxed to 877-833-7166.
The Adopt A Dog program offers 24PetWatch microchips, which include free registration into the 24PetWatch pet recovery service. (For more information visit www.24petwatch.com or call 866-597-2424.)