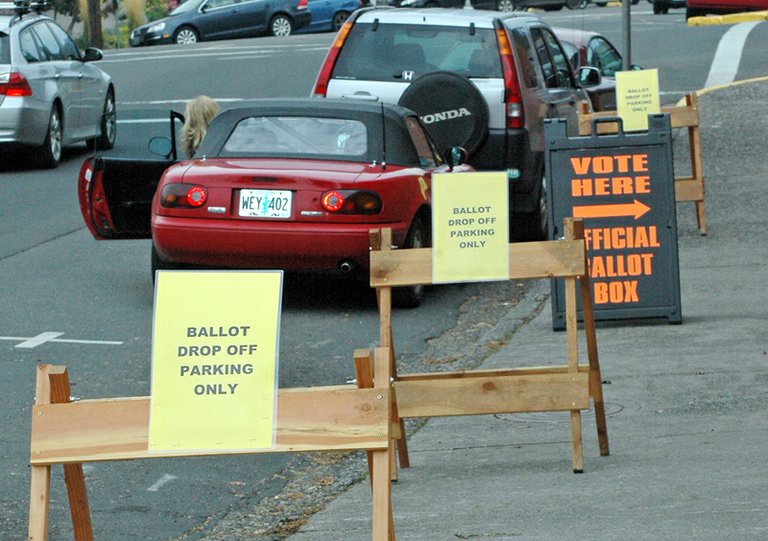 Tuesday, October 30, 2012
Ballots are coming in at a pace of about 500-600 per day, according to Hood River County Elections Coordinator Kim Kean.
On Monday, her staff took in 945 ballots, and few seem to have problems with signatures, Kean said.
"I suspect today will be big day, because we'll receive all the ballots that were mailed between Saturday and Monday."
So far, a total of 31 percent of eligible voters have cast their ballots.
Balloting continues in the general election until 8 p.m. Nov. 6. All votes must be in the hands of the County Elections department by that time — postmarks do not count.
Oct. 31 is the last day voters should plan to mail in their ballot, with any assurance it will arrive at the county in time to be counted Tuesday, according to Kean. Previously, she had given Nov. 1 as the mail-in deadline, but given the high volume of mail expected, she urged the Oct. 31 mail date.
Kean reiterated the basic protocol for ensuring ballot eligibility for each voter:
n Make sure you sign your ballot envelope, and only the one with your name on it.
n If you are registered but have moved or changed your address, contact the Elections office at 541-386-1442..
n Call that number if you have not yet received your ballot.
Ballots can be dropped off at the county building, 601 State St., and at Cascade Locks City Hall, until 8 p.m. Nov. 6.
Another change this year is parking restrictions on State Street at the Hood River building. Signs posted last week note that the spaces need to be kept free for people pulling up to drop off their ballots.
The spaces directly in front of the building do not have parking meters, so traditionally downtown employees and patrons park in those spots for extended periods, making it difficult for voters who want to simply pull up and deliver their ballots, according to Kean.
At least two spaces will be reserved for ballot delivery all the way through 8 p.m. Nov. 6, she said.
Kean also reminded motorists that political signs — including car window and bumper stickers — are not allowed to park within 100 feet of a polling place. That means cars carrying those signs cannot park in front of the county building or Cascade Locks City Hall.
This does not apply to cars pulling up to deliver ballots.
n
The Nov. 6 ballot contains local, state and federal races and ballot measures, including U.S. President, the second District Congressional race between incumbent Greg Walden and Democratic challenger Joyce Segers, the State House District 52 race between incumbent Mark Johnson and his challenger, Rhododendron Democrat Peter Nordbye, and the Local Option Levy proposed for renewal by Hood River County School District.