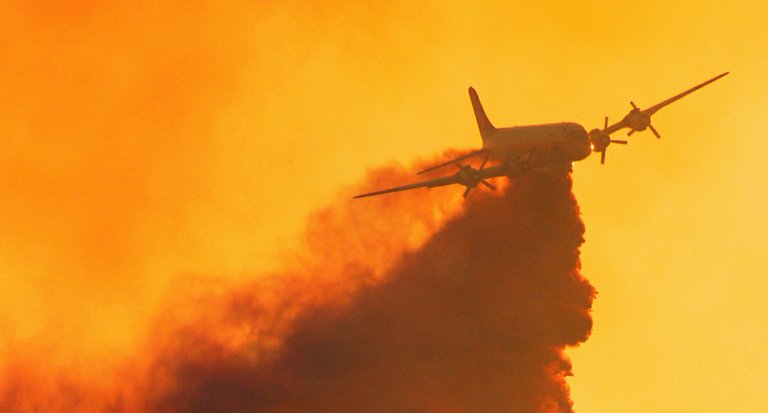 Saturday, September 8, 2012
White Salmon — What started as four small fires along Highway 141 in Washington at about 1:30 p.m. on Wednesday, has now burned over 1,200 acres of open land between White Salmon and Husum. As of press time on Friday morning, officials were reporting a 40 percent containment of the fire.
Air quality alert
For those with breathing difficulties such as asthma, the Highway 141 fire has created unhealthy air quality conditions in Hood River as of press time.
According to the Ellen Larsen, director at the Hood River County Health Department, sensitive individuals should stay inside, keep windows shut and not take part in any strenuous exercise.
"As of 10:30 a.m. Friday, we are lowering the Level 3 evacuation order homes to a Level 2," said Chuck Turley, information officer for the fire. "Residents may return to their homes but They will still remain at a Level 2, meaning they should be prepared to leave at a moment's notice."
Over 35 homes in the line of the fire had been evacuated under the Level 3 alert, with 400 additional homes at Level 2 for possible evacuation. As of press time, no homes had burned and no one was reported injured.
"We will continue to reevaluate the evacuation orders as the day progresses," said Stan Hinatsu, fire information officer from the U.S. Forest Service. "We will work with the Klickitat County Sheriff's Office as they ultimately have the authority to make the call on evacuations."
With a complex interplay of wind, terrain, humidity and temperatures impacting fire-fighting efforts, Hinatsu laid out a hoped for target.
"We anticipate 100 percent containment by Sept. 13," said Hinatsu, "but it could be sooner, or later depending on how much work we get done around houses, our progress on fire lines and what the weather will be doing.
The total burned acreage estimate was revised down from 1,500 acres after aerial imagery provided more accurate fire details.
"We flew the fire and aerial mapped it. We thought the two fires had merged, but as of this morning, there was still a separation."
Gov Christine Gregoire enacted a state mobilization allowing for additional fire fighting resources to be called to the area.
According to Hinatsu, there are now over 430 firefighters involved in the containment efforts, including a fleet of helicopters, dozers and engines. According to Hinatsu, airplanes will be made available when and if they are needed out of Washington airbases.
"Initially there were just local resources on the fire and then it got it complex enough called in a state management team. They are now in charge," said Hinatsu.
Yesterday at 11 a.m., management of the fire transitioned to Washington Incident Management Team 5 under Commander Dave Leitch.
According to Turley, light easterly winds on Wednesday and Thursday helped limit the fire's spread, with the Gorge's infamous gusts remaining at bay.
The winds were predicted to remain relatively calm through the Saturday, with 4-8mph anticipated in valleys and 5-10 mph on ridge tops.
Sunday poses greater risk with a change to westerly winds predicted and gusts up to 30 mph.
"Everything we are doing now is in preparation for Sunday's change in winds," said Turley. "Up till now, the easterly winds actually helped keep the fire turning back on itself and generally away from homes."
On the downside, with temperatures hovering in the 90s with continued low humidity, conditions still remain serious for families with homes bordering the fire lines.
According to Hinatsu, the Level 3 advised evacuation zone (highest danger) had been located on side roads which run along Snowden Road between Wnuk Road and Echo Glen Road extending down to SR141, and along Indian Creek Road in the Indian Creek drainage.
Level 2 (alert for possible evacuation) includes the areas along Snowden Road from White Salmon north to Wnuk Road and north of Echo Glen to Blackberry Road.
An evacuation center opened in the White Salmon Fire Hall with Red Cross on the scene to assist fire victims.
Two of the initial wildfire sources were contained rapidly, but one above White Salmon and the second near Husum gained momentum over the last two days. The cause of the fire remains under investigation at the multiple ignition points.
An email address has been established for fire information at Highway141Info@gmail.com. Regular fire information updates may be found at: inciweb.org/incident/3238/
According to Turley, the Columbia High School football game scheduled for Saturday night has been moved to the Toleda high school field to prevent smoke-related health concerns.