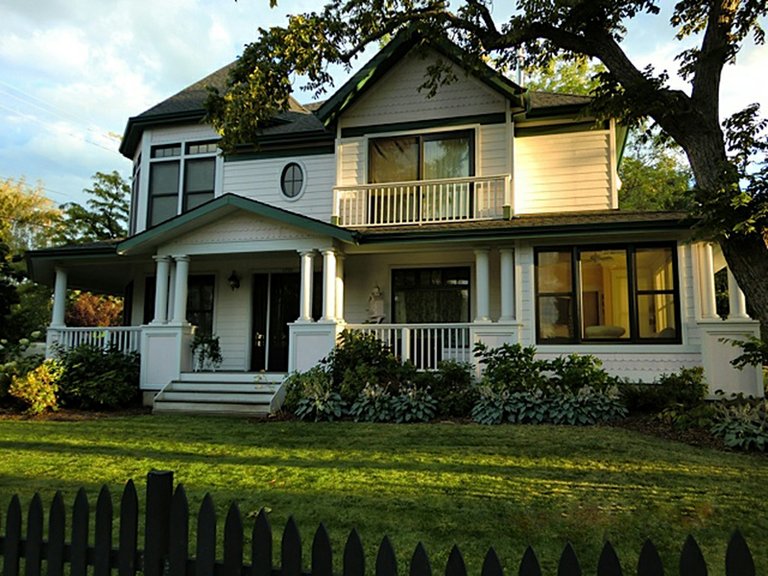 Wednesday, September 19, 2012
The first students to receive Delta Kappa scholarships courtesy of the annual Home Tour are now old enough to have kids in high school.
That's a sign of the longevity of this Sunday's 22nd annual fundraising event, which again in 2012 features a diverse list of attractions. Here's the list of homes, and ticket information is on page B3. Tours begin at Columbia Gorge Community College, Hood River campus, 1730 College Way, noon - 5 p.m.
1.Kathryn and Paul Cassidy
1701 Sherman Street
Classic home filled with whimsy and character
This large, 4,107-square-foot home belies its tiny beginnings. Once a quaint, very small 98-year-old cottage, it had served the Cassidy family as a vacation home for many years. In 2007 they decided they needed to expand.
They wanted to be sure to keep the gorgeous black walnut tree in the back of the property as well as the mature English walnut tree in the front yard. This provided the challenge of staying within the same small footprint as the former cottage. They more than rose to the challenge and created an outstanding six-bedroom, four and a half-bath beauty in its place.
As you wander through this beautiful home, please note owner Kathryn's love of whimsy and eclectic decor throughout. Her favorite spot is the columned wrap-around porch. Be sure to wave back at her as she drinks her sweet tea in this very sweet spot.
2. Tonja and Doug Mason
715 12th Street
Historic Captain Blower home
Built in 1902, this beautiful three-story Craftsman-style home with its massive pillars and large front porch was one of the finer homes built in 1902 for Capt. Amby S. Blowers, a mayor of Hood River, for the then-huge sum of $5,000.
Home to several owners over the century, including the Gatchels and the Poes, it was moved to its current site across from Providence Hood River Memorial Hospital in 2003. Careful restoration back to its original style was undertaken then and in 2009, when the Masons purchased the property. It was completely renovated.
The interior boasts large open rooms with the classical elegance of days gone by. The Brazilian cherry hardwood floors, high ceilings, wainscoting and built-in bookshelves all add to the ambiance.
With more than 3,600 square feet, this home has a gourmet kitchen, a soothing master suite on the third floor, plus three to four additional bedrooms and two-and-a-half baths.
With views of Mount Adams and the Columbia from the four new decks, Captain Blowers would certainly be impressed and pleased that his home has been so well-loved for more than 110 years.
3. Vangie and Daniel Pepper
1002 Sherman Street
Beautiful gardens and views
This beautiful two-story with basement, Victorian-style home was originally built in 1900. The Peppers tastefully remodeled and updated the home in 2010 with help from local professional architect Tim Gendreau and builder Bob Thayer.
The remodel took a year to complete and the quality and careful consideration for materials shows; wide-plank hickory flooring throughout and special touches at every turn.
This home may have Victorian style, but it has state-of-the-art systems including a geothermal heat pump, a solar water heater and photo voltaics.
This large, 3,200-square-foot home boasts four comfy bedrooms and three-and-a-half-baths. The eclectic mix of styles includes two Seattle artist-created mosaic mirrors featured over the fireplace and in the guest bath.
As part of the master suite remodel, a balcony, with a gorgeous view of the Columbia River, was added with custom designed railings. The master bathroom features a clawfoot tub and artfully designed tile work by Kevin Clarke. The kitchen with its open common area and views is a favorite place for the Peppers to spend their time.
The outdoor areas add much to the Victorian flavor of the home: Honeybee hives, using a feral honeybee hive found on the property, are designed to look like little houses; water features from San Francisco are provided for the birds and bees, and carefully designed flower and vegetable gardens complete this picture of comfort and casual style.
4. Mary Ellen Barilotti and Frank Lauran
2580 Reed Road
Modern design with art and sculpture indoors and outdoors
Art anyone? The largest of home's on the tour this year (5,000 square feet) is bursting with art and sculpture. Owner Frank is a talented sculptor and his pieces can be seen both indoors and out. Art by many other artists and work in many mediums can be viewed in this modern design home.
The 10-foot sculpture of a safety pin, which looks like metal, really is carved wood. Frank's workshop allows him to pursue his projects to his heart's content.
The kitchen showcases three wall sculptures composed of knives, forks and spoons. You'll see a unique Mexican chest which has multiple layers of paint which is etched on and then cut away revealing the color below.
This eclectically decorated four-bedroom, four-bath home has a leaning toward the Arts and Crafts style. At the east end of the home is a classic Asian-decorated complete guest suite, which includes a kitchen, bedroom, sitting room and a spa-inspired bath.
The home office has a painted wooden screen which was painted by the couple's daughter when she was just 13.
This long, decked, view home sits in the forested privacy that the owners enjoy. The setting allows for the home's creative landscaping and inspiration for both Frank's and Mary Ellen's artistic pursuits.
5. Kathie and John Alley
2658 Reed Road
Country charm in a gorgeous rural setting
What started as a tragedy, thankfully, turned into a country family home that has been cherished since 1989. A St. Patrick's Day fire consumed the family's old farmhouse but offered the opportunity to build their dream log home.
They hired contractor Rich Dorzab, who was eager to build the 2,700-square-foot, three-bedroom, two-bath log home. The home's spruce logs came from British Columbia.
By Labor Day the Alleys and their two children, Katie and Matthew, were living in their open plan, country-style log home. Set on 5.5 wooded acres, it proved to be the perfect setting for the family's activities of horseback riding and four-wheeling.
Now beautifully landscaped, including family heirloom plants and a pond, it provides the quiet, rural setting for fun neighbor and close family get-togethers.