Wednesday, September 19, 2012
Imagine a vast, fantastic forest wilderness at your disposal, a week's vacation ahead and two friends to share your backpacking adventure with.
Now imagine returning to your first night's campsite after a six-mile morning hike to discover a towering plume of smoke rising with a vengeance near the area where you parked your car.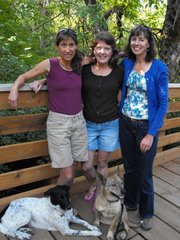 That is the scenario three Gorge women experienced on Sunday, Sept. 9 just before they began a harrowing 16-mile hiking/running escape from the Pole Creek wildfire near the Three Sisters mountains, just north of Bend.
Lynne Davidson of Hood River along with Leigh Hancock and Margaret Neuman of White Salmon were three lucky survivors of the still-raging Pole Creek fire, which has now burned close to 17,500 acres. It remains at 15 percent contained.
The trio spent 10 hours in their run to safety, abandoning thousands of dollars of backpacking equipment in the process, while warning dozens of other campers and hikers on their trek to safety. Their two dog companions, Pippin and Hazel also made it out alive.
"We had planned to camp at Pole Creek on Saturday night but luckily decided instead to hike into Soap Creek," said Davidson. Pole Creek turned out to be the area first engulfed in the fire on the morning of Sept. 9, starting at around 9:45 a.m.
"We had left our gear at the Soap Creek camp while we went on the six-mile North Sister Loop. When we were coming back to camp around 10:30 a.m., we saw the first smoke plume billowing upward to the north of us. We thought, this doesn't look good," said Davidson. "The plume was getting bigger and we started packing frantically — just stuffing everything into our packs."
The trio had no cell reception at that point and determined the safest route out would be towards the south — away from the growing flames, and away from their vehicle, parked at the Lava Trail head to the north.
In their quick run southward, they crested a ridge and looked at their escape route, a trail that ran through a large stand of dead trees. Looking back, they could see the fire was racing towards them.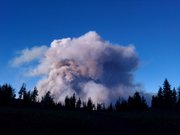 "We ran about three miles through the huge swath of beetle-infested and dead lodge pole pines. It was scary. It was all dry tinder around us. We could see large tankers flying overhead," said Davidson.
Neuman, a former Forest Service worker, knew that large tankers meant a big fire was underway. It also meant that the firefighters were "on it."
"That was the worst part," said Hancock. "All we could see in front of us was dead timber —hearing the planes overhead —and we knew we could be in serious trouble."
"We didn't really know the area and were just looking at the maps. When we entered the dead forest the winds were gusting and any ember could have set it off," said Neuman. The women had no other viable route out without knowing the exact location of the fire behind them.
The women proceeded at a run, finally arriving at a creek and got cell reception. A call to 911 yielded advice that would turn out to have its own perils.
"They told us to get the nearest body of water and stay there," said Davidson. The team kept hiking while trying to signal the airplanes above in hopes of a rescue.
The trio decided to drop their packs and gear to make traveling easier. They decided to alternate two cell phones into the "on" position to conserve batteries and left one in "off" as a reserve.
"We felt we were running for our lives," said Davidson. They decided to leave their sleeping bags, tents and most packs behind. They then filled their water bottles, stuffed granola bars in their pockets, took the compass, map, head lamps, a knife, Steripens for water purification, an emergency wrap blanket, and a first aid kit.
The only missing element from the backpacker's "10 essentials" list was, ironically, a method for making fire.
After about a quarter mile, Davidson realized she had left her car key in her abandoned backpack and decided to retrace her steps to retrieve it. She could see she still had some distance between their drop spot and the encroaching fire.
The trio reunited and finally reached a small lake, unnamed on their hiking maps. Once there, the women rested from their run and assessed their situation.
"We were just so glad to see it when we saw it — to be near that lake," said Neuman. "It wasn't the best solution, but it was what we had at the time."
With a renewed sense of hope they planned out how to communicate their location to potential rescue aircraft.
"We made a big X out of some fallen logs next to the lake. We were flashing our compass mirror to the planes as they flew over. We used our hiking poles to wave in the air," said Davidson.
Neuman eventually gained enough cell phone coverage to reach 911 a second time while at the lake.
"They told us they didn't have the resources to send a helicopter to rescue us and that we were on our own," said Neuman. This was a sobering realization.
Again they were advised to stay near the body of water, which they did for about two hours as they weighed their options.
Seeing that the smoke was getting closer and the fire was growing, the women began calling for additional help to friends and family as cell coverage allowed.
Hancock's husband, Bengt Coffin, a Forest Service employee in Washington, and Cari Press, a Forest Service hydrologist and colleague located in Bend, along with Neuman's husband Albert Durkee, began to advise the trio with the aid of maps, fire reports and wind conditions gathered through their research.
Within a short time, a shift in winds added to their advantage and the "home team" advised the trio to get out of the area and continue on south to the Green Lakes area — meaning a 12 mile hike was in front of them. It was around 3:30 p.m.
The hikers later learned that both Coffin and Press were concerned that they would not survive a high-intensity fire while waiting near their small lake. With air temperatures potentially reaching hundreds of degrees, they feared the trio's lungs could be ruined well before a smoke inhalation crisis.
"We weren't really sure we'd survive at the lake but we had no options at first," said Hancock. "We knew we were totally on our own."
"When they (Coffin and Press) told us to get to Green Lakes, we knew we had to make a choice — either hike in the dark or take our chances at the lake without sleeping bags in the cold with the fire still growing," said Neuman. "We decided our best bet was to hike."
The trio was lucky. The winds remained favorable as they hauled themselves through the first six miles until they reached a ridge above the Green Lakes area.
"We could see that we had put some distance between us and the fire," said Neuman, who took her one and only cell phone photo of the fire from that ridge. "It was the first time I felt safe enough to record it."
They still had about six miles to go to get to a trailhead.
"The winds were just howling," said Hancock. "We had one fleece jacket each."
"We were at the 7,000 foot elevation and it was cold," said Neuman.
As they looked into the serene Green Lakes terrain below them, it was hard to believe there was a raging fire at their tail.
"As we hiked toward the trailhead, we met a lot of people camping and hiking who had no idea there was this giant wildfire behind the ridge," said Hancock.
"We were like three mothers warning everyone," said Davidson. While some people packed up and evacuated, others were unmoved by their warnings.
"We decided to keep on moving no matter what people were deciding to do with the information," said Davidson.
The trio finally reached their goal around 8:30 p.m. and were met at the trailhead by Press, who took them in for the night. They had been running and hiking since 10:30 in the morning with just one two-hour break at the lake.
All three confessed to some difficulty sleeping that first night out.
"We all just kept running those decisions through our minds," said Hancock. "There were so many decisions to make and each one felt like life or death."
"But, we made it out alive and uninjured," said Neuman.
Each survivor in their own way ended their tale with the same expressed sentiment — sad to lose a lifetime's collection of backpacking gear, but supremely happy to be alive and home with their loved ones, and their lucky canines.
"We learned that if you are going into the wilderness, you'd better assume you are truly on your own. Plan ahead for a self-rescue," added Hancock. Luckily, the trio had done so.
As for the forest surrounding the lake at which the trio temporarily sheltered, according to Jean Nelson-Dean, public affairs officer for the Deschutes National Forest, initial assessments indicate that it was completely burned over.
n
Current fire condition information may be found at inciweb.org.