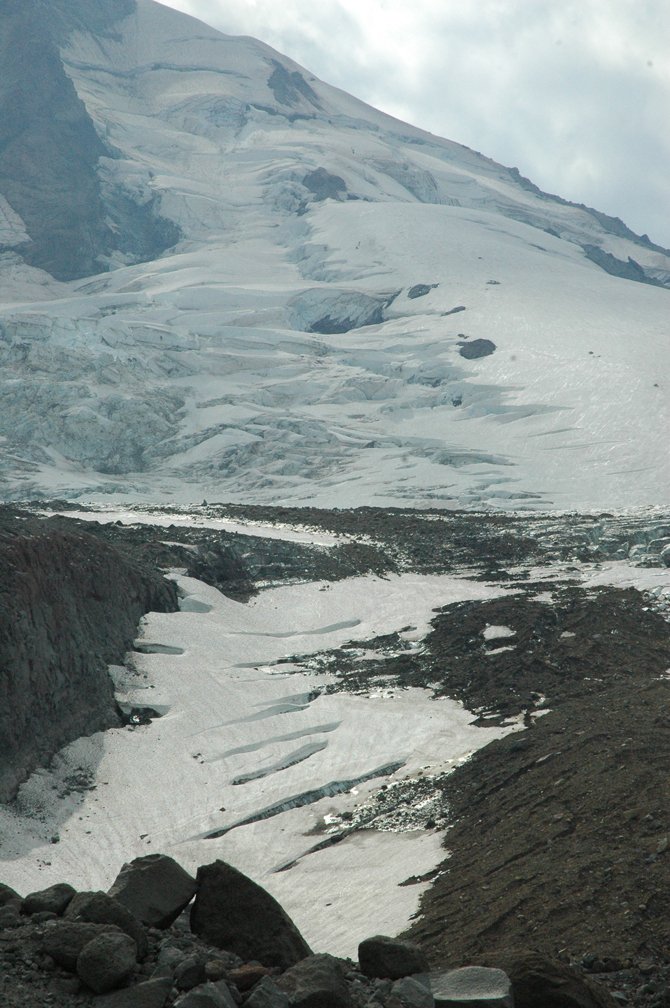 Wednesday, September 19, 2012
Portland State University geologist Dr. Andrew Fountain will speak Sept. 25 on "Mt. Hood Glaciers, Trends and Future Water Supplies," with an emphasis on the mountain's north-side glaciers.
The meeting is free and open to the public, and is co-hosted by the Hood River County Planning Department and the Hood River Water Resources Planning Group.

Scheduled during the regular monthly meeting of the Hood River Watershed Group at 7 p.m., Fountain will offer a 30-minute presentation at the Hood River County Commissioner's Room at 601 State Street in downtown Hood River.
Fountain's research highlights the interactions between water and glaciers, and glacier changes that are observed in response to climate, according to Steve Stampfli of the Watershed Group.
"Much of his current work has focused on Mt. Hood's glaciers, and how flows in Hood River tributaries such as Eliot Branch are being impacted by reduction in the size of glaciers," Stampfli said.
The presentation will provide a context for understanding changing glacial patterns in the Pacific Northwest, including the retreat of Mt. Hood's glaciers, and overall regional trends toward higher winter and lower summer runoff patterns.

Fountain's presentation will also address investigations on declining stream flows as a result of glacial recession and other factors.
"Present and future stream flows are critical to the economy and ecology of the Hood River valley, since water for agricultural use is an essential component to the largest segment of our economy, and adequate stream flows are critical to aquatic and land-based animals and plants," Stampfli said.
Finding ways to accommodate the water supply needs of both humans and aquatic life is a major focus of the Hood River Watershed Group, a large coalition of basin water users, fish and wildlife interests, recreationists, and others who are working to cooperatively solve the valley's most pressing natural resource challenges.

The planning group has been working since 2008 to develop a comprehensive inventory of the valley's surface and ground water supplies, and proactively plan for the future use of those supplies.
For details call Stampfli at 541-386-6063 or Mike Benedict at 541-387-6840, and go online to http://www.hood riverswcd.org/hrwg.htm to view the agenda.