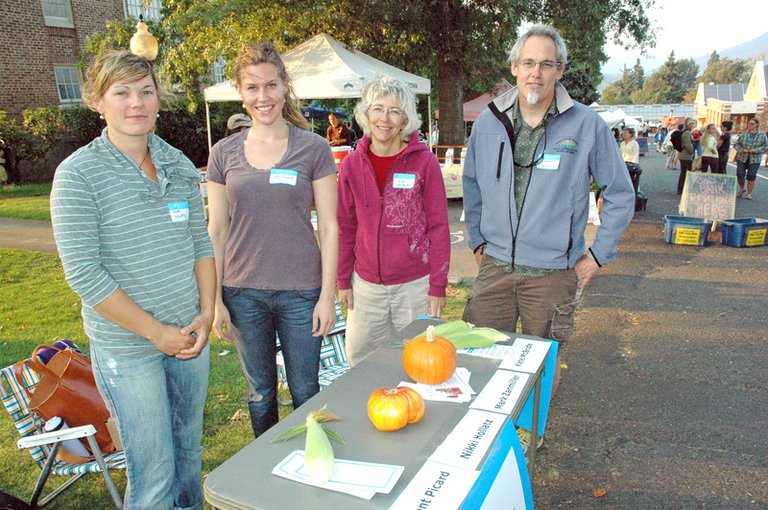 Saturday, September 22, 2012
Elections in the cities of Hood River and Cascade Locks look to be interesting, if not lively.
Cascade Locks mayoral candidates Lance Masters (the appointed incumbent) and long-time council member Tom Cramblett have verbally sparred on numerous occasions, usually seated three feet away from each other.
(It's all part of the ballot for the Nov. 6 General Election, which also includes statewide measures, county and state positions, and of course that Obama v. Romney race.)
Cascade Locks council member Jeff Helfrich is seeking re-election to his post, and appointee Randy Holmstrom will be looking for voters to retain him.
The rest of the field is Bruce Fitzpatrick, Richard Randall, Glenda Gross and Ralph Hesgard.
Cascade Locks politics have been notably vibrant in the past 18 months, though the process of policy making had calmed down with interim city administrator Paul Koch (now on contract extension through mid-2013) as chief appointed officer.
How vibrant the election campaign becomes is largely up to the voters there. Oct. 16 brings a candidates night for mayor, City Council, and Hood River County Sheriff starting at 7 p.m. at City Hall.
The first election forum on record this season in Hood River County will be at 3 p.m. Sept. 30 at Center for the Arts in Hood River, with District 52 elected incumbent Mark Johnson talking about the issues with challenger Peter Nordbye.
Meanwhile, in Hood River, Mayor Arthur Babitz will be running unopposed for a third term, while four candidates will be seeking three city council positions; they are current council members Laurent Picard, elected in 2002, and Kate McBride, appointed in January 2012, along with city planning commissioner Nikki Hollatz and Hood River Valley Parks and Recreation board member Mark Zanmiller.
The quartet appears to have set a collegial standard for the campaign. Zanmiller suggested, and the others agreed, to share an information table at Thursday's Gorge Grown Network market at Hood River Middle School.
They'll be back at the market on Sept. 27, 4-7 p.m., and may schedule other joint appearances as the campaign proceeds. "It's in keeping with the cooperative spirit of Hood River," McBride said.