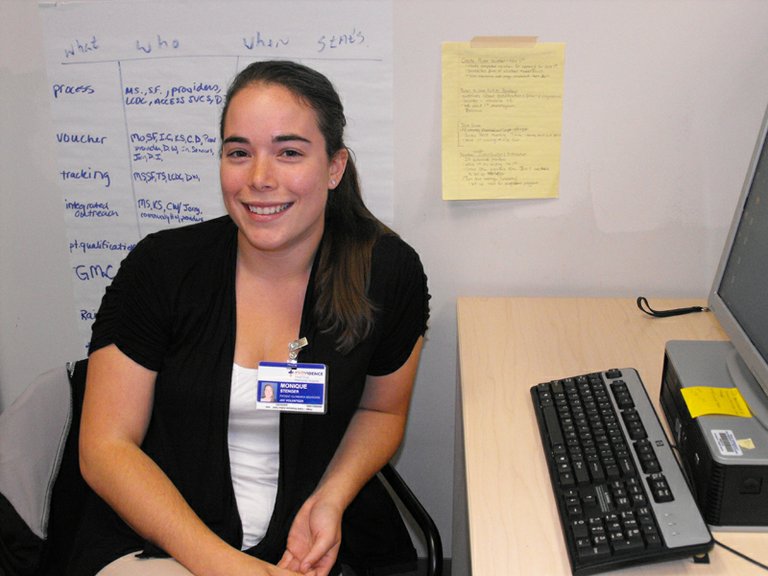 Tuesday, September 25, 2012
Age: 22
Hometown: Egg Harbor Township, N.J.
Graduated: Villanova University, 2012; B.S. in nursing
Assigned in Hood River as a patient outreach advocate, Providence Hood River Memorial Hospital, Julie Beliel Cancer Screening Voucher Program
Using an analytical brain, matched with a caring heart, Monique Stenger is taking on a much-needed task at PHRMH. She will be working to eliminate barriers to women who need to obtain mammogram cancer screenings, but who might not be able to afford them.
"Early detection of breast cancer leads to better outcomes," said Stenger in answering why she and hospital are investing extra time in their outreach efforts in the Gorge. "For me, I've wanted to use my nursing skills in more of a public health setting."
Stenger went on to elaborate, "I always knew I wanted to help others and thought it would be enough to help one person at a time. But I think I want to work on making the holistic changes that can help a lot of people."
By helping the hospital in its goal to improve enrollment and access processes for the existing voucher program, Stenger feels she would be contributing to those larger changes.
On how she came to join the JVC organization, Stenger responded with seriousness: "The four pillars of spirituality and reflection, simple living, community and social justice really resonated with my outlook and I went for it." In reviewing her relocation to Hood River, Stenger laughed, "I'd like to think that Hood River chose me."
When asked how her quest for spiritual growth meshed with JVC life, Stenger said, "I am Catholic but I was interested in how others would be experiencing their spirituality. Being a JVC doesn't limit us to Catholic viewpoints." Taking a wide view seems to be Stenger mission.
"Healthcare isn't just about the care of your health, but really about the care of the whole being. My work on the cancer screening voucher program is allowing me to do that."