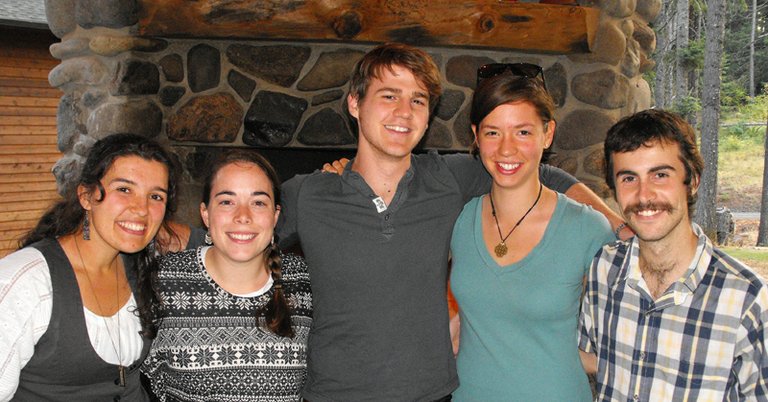 Tuesday, September 25, 2012
"Live simply so that others may simply live."
— Mother Elizabeth Ann Seton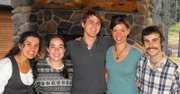 "Live simply so that others may simply live." St. Elizabeth Ann Seton
While much of today's culture in the U.S. appears focused on the acquisition of wealth and the adoration of fame, there is a small group of young people who have just arrived in Hood River who are experimenting with a different world view; one more in line with the profoundly challenging guidance offered by Mother Seton.
The four pillars of Jesuit Volunteer Corps
SPIRITUALITY and REFLECTION: Volunteers are challenged to explore and deepen their spiritual lives. Their journey is part of a life-long process that can be simultaneously comforting and unsettling, joyous and painful. The volunteers are "contemplatives in action," engaging in the Jesuit Ignatian tradition of discernment and reflection in relation to social and ecological justice. This reflection is an opportunity for the volunteers to integrate the variety of experiences throughout their year of service.
SIMPLE LIVING: This core belief challenges each volunteer to live a simple and reflective lifestyle, an alternative way to living in a consumer society. Volunteers to integrate their faith by serving with and living among those who experience poverty and oppression. This helps volunteers experience the lives of those with whom they interact on a daily basis and to raise their consciousness to the human needs surrounding them.
Often, volunteers find living simply opens them up to a more joyful way of life, appreciating small wonders that often go unnoticed in everyday life.
COMMUNITY: Volunteers live with one another in intentional communities. The process of building community offers an opportunity to share experience, faith and hope. Women and men come to JVC with diverse backgrounds and expectations. The challenge for each person is to respect and learn from these differences while building on common values. Community requires time, effort and sacrifice, while giving back many wonderful, unexpected gifts.
Volunteer communities are places to share and grow collectively and individually. Living in community often marks the beginning of lasting friendships.
SOCIAL JUSTICE: JVC is committed to working for social and ecological justice and structural change. JVC Northwest encourages the empowerment of people who live on the margins of society through volunteer placements. Through service and reflection on lived experiences, JVCs examine the causes of oppression and look for ways to bring about justice in our world.
At the beginning of this month, five college graduates from across the U.S. began a year of service in Hood River as Jesuit Volunteer Corps Northwest community members. They are working in eight different agencies across the county serving hundreds of residents.
They live together in community and receive just $100 a month beyond their room and board allowance during their 12-month commitment.
Ranging in age from 22-24, the JVCs were able to begin their work here as a result of a year-long effort from many individuals and organizations that promoted Hood River as a town that could support their unique service community. Only a half-dozen other towns in Oregon have qualified to host JVC communities.
Those working to assist the under-served in Hood River County are lining up to welcome this new venture in volunteerism. Bianca Fernandez, Monique Stenger, Hollis Dunlop, Daniel Taylor and Justin Velez are gaining many supporters as they take on the inspiring task of living in contrast to many of today's values, all while providing service to our community's poor.
Established more than 50 years ago in the Jesuit Catholic tradition, JVC Northwest communities, according to their guidelines, emphasize spiritual openness and depth, action on the causes of social and environmental injustice, promote peace and structural change, and commit to simple living, embodying a healing and sustainable presence on the Earth.
Each individual Hood River JVC volunteer has a unique story that led him or her to choose this work on their journey to adulthood. While each arrives with personal goals, all share a philosophy of pursuing spiritual growth through service.
Each JVC living in the newly established Odell community house credits the four core values of the Jesuit Volunteer Corps as the foundation for their work in the coming year: spiritual reflection, simple living, living in community and social justice.
Individuals apply independently to the JVC Northwest program to become a volunteer and then learn about service opportunities. Each person then undergoes a period of discernment with guidance from JVC supervisors and later selects the service sites they feel best fit with their calling.
Once a community contacts the JVC Northwest coordinators, seeking to establish a site for a JVC house, the community seeking that help must also conduct a long discernment process, and develop the local connections of job placements, housing and social supports that are needed by the volunteers.

The group arrives as a unit — though each person in the JVC house will have differing job placements and none of the college grads know each other before they move in together.
Jesuit Volunteers serve for a year or more in solidarity with persons living on the margins of society within vulnerable living situations.
It is easy to see how the slow and faith-based steps of the JVC process help support the concept of "intentional" living — where nothing proceeds without a lot of thought and reflection.
Funding for the living expenses of the team comes through the AmeriCorps program combined with matching funds provided by the volunteer-site organizations.
The volunteers give 40 hours a week to their sponsor sites.
More than 12,000 men and women from across the United States have worked full time as Jesuit Volunteers in placements serving those marginalized in U.S. society, including people who experience poverty, hunger, disabilities and abuse. For more information visit jvcnorthwest.org.