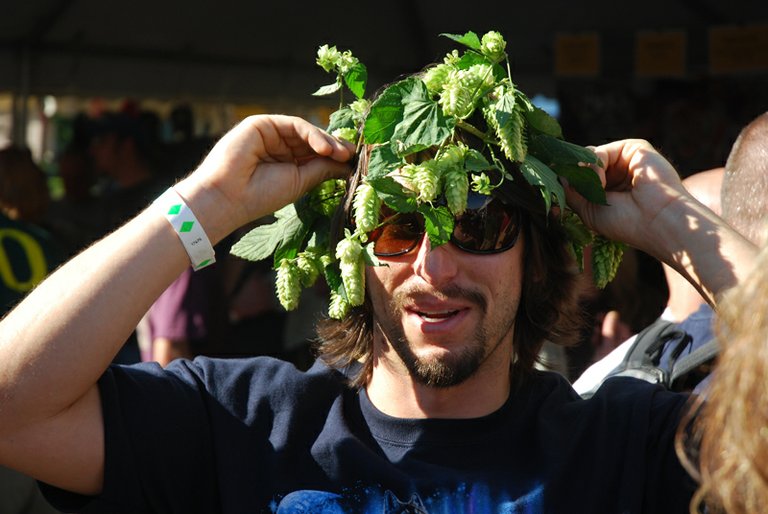 Wednesday, September 26, 2012
A record crowd is expected for Saturday's Hood River Hops Fest, according to Kerri Cobb, executive director of Hood River Chamber of Commerce.
Sixty-four breweries, including eight from the Mid-Columbia, are signed up for the all-day festival, which opens at noon at Fifth and Columbia streets.
Turn to page A2 for full details.
About 8,000 people attended the festival in 2011, the first year the chamber organized it and the first year specific attendance numbers were kept. (In 2010, the unofficial head count was 5,500.) Cobb is expecting even more this year.
She said the chamber has marketed Hops Fest directly to participating breweries, "many of whom have large fan bases."
Meanwhile the Festival's Facebook page follower list grew from 400 to more than 2,500 since 2011.
Cobb said this year the chamber expects a number of regional and national beer writers — and prime weather conditions.
She said that in light of the large crowd expected, "We hope people arrive and leave at an even pace," bus said "We have great security, and so many volunteers involved.
"Last year was a really good crowd, lots of families, and locals."
But Cobb said she recognizes that "this will be one full parking lot." A venue change may be in order for the future, she said. (The festival started in 2006 a block away in the smaller parking lot at Fourth and Cascade, moving after two years to its current location.)
"We're going to watch and see what happens," she said.
Seven breweries will be presenting fresh-hopped beers at the festival, including Full Sail Brewery, which celebrates the season's first hops with Hopfenfrisch, a Pilsner style lager, showcasing the Perle hop variety.
The brewery celebrates its 25th year with its new "25" Doppelbock ale, presented for first toast at 5 p.m. Thursday at the Full Sail Tasting room.