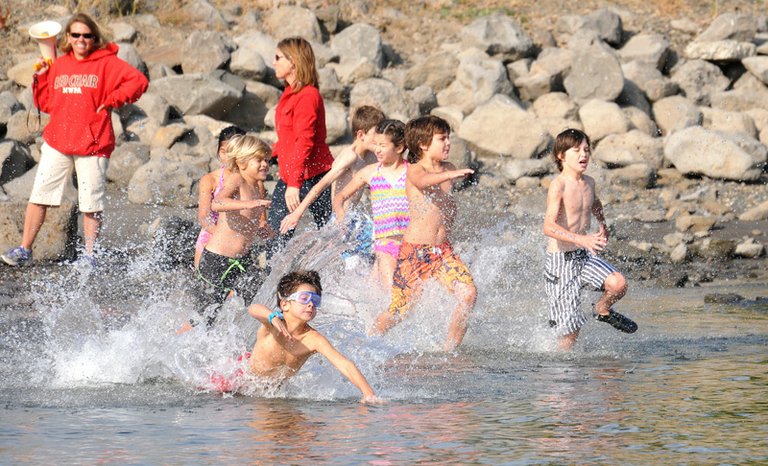 Wednesday, September 26, 2012
Poised at the starting line, 10 brave young girls dip their toes in the water to test its temperature. They look at one another, giggle and agree that it's freezing. But with close to 250 kids waiting just uphill, there was no backing out.
By megaphone the first wave of kids is dispatched. Most of the 10 dash across the shallow section of the Hood River Waterfront Park's swim beach, giving themselves a good splashing but avoiding an all-out swim. A few go for the full swim but end up running the tail end, either because of the cold or because they're falling behind.
A quick jaunt up the beach awaits the second obstacle — although not officially part of the standard swim, bike and run triathlon. Before their first transition, the kids must first negotiate a gauntlet of parents and relatives armed with zoom lenses, videocameras and smartphones.
The next challenge is finding the right bike in a sea of helmets, handlebars, seats and fluorescent pinks and greens. Once that's accomplished, in comes equally impressive display of parental athleticism to ensure a successful transition. It's like a NASCAR pit stop with kids as cars and shoes as tires; the sound of pneumatic lug wrenches whizzing in the wind.
With a quick push to get up to speed, the kids are off to the biking portion of the event. By the time the first waves of bikers is back to the transition zone to switch to the run, waves of others are reaching the same area fresh from the swim. This is when things get really interesting.
Organized chaos is a good way to describe it. It's like rush-hour on a farm.
Volunteers herd sheep the best they can while trying to keep straight faces. Someone's shirt is on upside down, little brother is running away with sissy's helmet, shoes are on the wrong feet, helmets are on backwards, one dad is nailed in the knees by the handlebars of a wobbly first-grader on a bike, another gets run over from behind by his own son.
This is quality America's Funniest Home Videos material.
The home stretch is a short run to the Event Site and back. The whole thing is an adventure, not a race, so there's no time clock or ribbons or first and last places waiting at the end; just a bag full of goodies and a bunch of high fives at the finish line.
"We had about 250 kids this year," said Chris Reitz, director of Sunday's second-annual Gorge Kids Triathlon. "We had about 200 last year and were aiming for more, so it was a really good turnout. It was great so see how much of a community event it turned into. We had kids from all over the valley, and parents were helping and cheering on all the kids, not just their own. I can't say enough how fun it was to watch and to be a part of."
The event raised about $8,000, all of which is donated back to Hood River valley's four elementary schools. The money is divided evenly between parent-teacher organizations for Parkdale, Mid Valley, May Street and Westside. Each PTO can choose how the money is used, as long as it's related to fitness or health programs.
"The event couldn't have been done without volunteers, sponsors and local businesses stepping up to help and donate," Reitz said. "Thank you to everyone who helped make this such a successful event."
n Anyone with feedback, ideas or suggestions on how to run a better event next year or to join the planning committee can contact Reitz at reitztho@mac.com.