Thursday, September 27, 2012
Dodgy Mountain Men play Pint Shack Oct. 1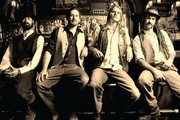 Missoula "Stompgrass" outfit Dodgy Mountain Men is currently touring with their debut album "Stronger than Death," with a stop in Hood River at the Pint Shack on Monday, Oct. 1, at 8 p.m. Critics are saying "the Dodgy Mountain Men play with a freshness and vitality that took me by surprise. Instrumentally, they are top-notch. The energetic interplay between the guitar and the mandolin is reminiscent of some of the Grisman & Garcia work that I hold dear, and the attack on each song is a breath of fresh air from a band that is still in love with their craft." Jim Drake of the Hood River News says "the original songs from this band are gritty, and played with a lot of heart. It sounds like something you'd definately hear around the campfire, and with all the smoke in the air nowadays, these guys will fit right in."
Rich Wilkins Blues Band at The Pines Sept. 28
This week at The Pines Tasting Room in Hood River:
Thursday, Sept. 27: Kerry Williams & Co. 6:30 p.m.
Quench your thirst and musical cravings Thursday night at The Pines. Join Kerry Williams and his musical compadres as they rock The Pines with their impromptu solos and smooth vocals.
Friday, Sept. 28: Rich Wilkins Blues 6:30 p.m.
Come celebrate with The Rich Wilkins Blues band who specialize in bringing traditional blues and dance music to the Northwest. With years of experience Richard brings his hot saxaphone touch to blues standards by Jimmy Reed, Little Walter and Elmore James.
Mare Wakefield plays house concert Sept. 30
Paul Blackburn's house concert season starts up again on Sunday, Sept. 30, with singer-songwriter Mare Wakefield. The critics say Wakefield is "a rootsy, singer/songwriter … one of the best we've heard. At times soft and soulful, at others riotous and rowdy … Wakefield is a unique and wholly self-evolved performer with that special ingredient." Visit www.marewakefield.com for more. Sunday, Sept. 30, 7 p.m., 401 Montello, Hood River; 541-387-4011.
Cowboy music festival in Stevenson Oct. 6
Saddle up, pardner, and bring the whole family! On Saturday, Oct. 6, there's a free show of cowboy/western music and cowboy poetry at the Hedgewald Auditorium at the Skamania County Fairgrounds. Presented by the Columbia Chapter of the Western Music Association, the show will present musicians and poets from throughout Washington and Oregon. The WMA is a fan-based organization dedicated to the fostering of western music and poetry. The event is set to begin at 1 p.m. Music and poetry will fill the afternoon, and there will be an evening show commencing at 6 p.m. Nevada Slim & Cimarron Sue are on the bill as well as local cowboy poet Duanne Nelson. For more information contact Nelson at 541-296-5953, or e-mail shortcutpoetry@hotmail.com.
'Jiro Dreams of Sushi' Sept. 26
On Wednesday, Sept. 26, Columbia Center for the Arts presents the award-winning film "Jiro Dreams of Sushi." A sushi rolling demonstration and sake sampling will held at 7 p.m. with a sushi chef from Sushi Okalani. The film will be shown at 7:30 p.m. Tickets are $5 and available at the door. "Jiro Dreams of Sushi" is the story of 85-year-old Jiro Ono, considered by many to be the world's greatest sushi chef. He is the proprietor of Sukiyabashi Jiro, a 10-seat, sushi-only restaurant inauspiciously-located in a Tokyo subway station.
Despite its humble appearances, it is the first restaurant of its kind to be awarded a prestigious 3 star Michelin review, and sushi lovers from around the globe make repeated pilgrimage, calling months in advance and shelling out top dollar for a coveted seat at Jiro's sushi bar. At the heart of this story is Jiro's relationship with his eldest son, Yoshikazu, the worthy heir to Jiro's legacy, who is unable to live up to his full potential in his father's shadow. 81 minutes. Rated PG.
Full Sail Brewing turns 25; celebrate on Sept. 27
It's been 25 years since Full Sail Brewing brewed up their first batch of beer. To celebrate, they have crafted "25," a pale doppelbock to celebrate this special occasion: the brewery's 25th anniversary. The Full Sail crew invites you to join in the toasting to "25" on Thursday, Sept. 27, at 5 p.m. Full Sail Tasting Room and Pub, 506 Columbia St., Hood River; 541-386-2247.
Scott Law at CEBU Lounge Sept. 29
This week at CEBU Lounge:
Friday. Sept. 28: Rick Hulett's Bigfoot Trio 9:30 p.m. — Hood River Roots Music. Local music man Rick Hulett and friends come to Cebu for an evening of rootsy Americana.

Saturday, Sept. 29: Scott Law Acoustic Duo w/Asher Fulero 9:30 p.m. — Acoustic guitar and keyboards
Guitarist, singer-songwriter and fearless improviser Scott Law is a versatile instrumentalist. With an acoustic or electric guitar in hand, he is recognized for his rhythmic ability to fit into any musical situation.
'Science Pub' talk in HR Oct. 1
The Center for Sustainable Materials Chemistry is taking its "science pub" outreach efforts across Oregon, with center co-director David C. Johnson set to talk about nanotechnology and materials science in Hood River and The Dalles. The talks begin at 6:30 p.m. and run about 90 minutes. The events are open to the public.
Monday, Oct. 1, at the Big Horse Brew Pub, 115 State St., in Hood River.
Tuesday, Oct. 2, at the Rivertap Pub, 703 E. Second St., in The Dalles.
Entertainment listings can be e-mailed to jdrake@hoodrivernews.com