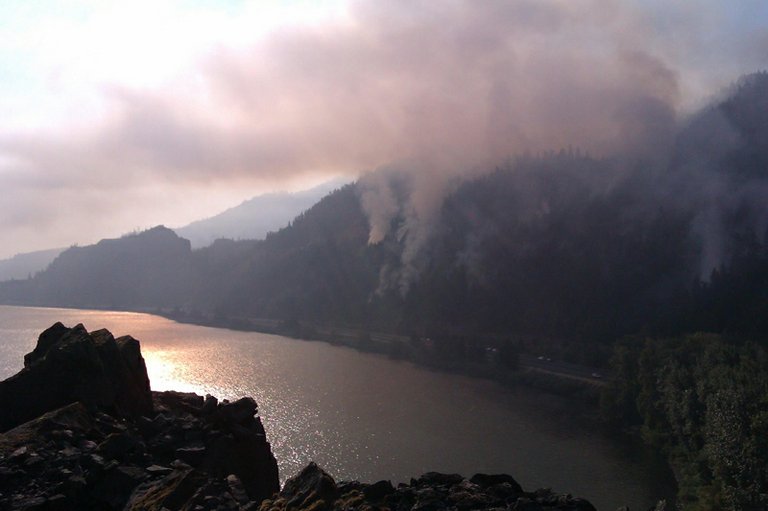 Friday, September 28, 2012
Talk of the weather took on three key words this week: sun, wind and smoke.
Mainly smoke.
The scent of Milepost 66 was everywhere, and often the evidence hung in tiny bits of ash.
We have all been breathing even smaller particulates from the fire. The experience gives us a greater sense of empathy for what our neighbors to the north and south were going through in the previous two weeks as smoke and ash fell from the fires near White Salmon and Trout Lake and Sisters. Several surreal periods of clear skies over Hood River persisted even while we could see the plumes near White Salmon and Mount Adams, and the general brown haze to the east and south.
This week, Hood River had its pall, and citizens made the best of it. Local authorities were quick to issue helpful warnings about avoiding respiratory problems. Hood River Fire Department's is on our website and on page A11 of this edition.
Smoke levels can rise and fall rapidly depending on weather factors including wind direction and speed. Smoke is made up of tiny particles (particulate matter) that can be harmful to breathe especially for children, older adults and those with asthma and other lung or heart conditions.
A ridge of high pressure covers the western United States and will continue to bring higher than normal daytime temperatures and low daytime humidity resulting in continued high fire danger in the region. High pressure is expected to persist for the next week.
Given that the smoke will be with us at least through this weekend, and possibly longer, and the fire season is not over yet, here are some advisories from the county health department:
People with respiratory or heart disease, the elderly, and children should limit prolonged physical exertion.
Avoid smoke either by leaving the area or protecting yourself by staying indoors, closing all windows and doors and using a filter in your heating/cooling system that removes very fine particulate matter.
Avoid tobacco smoke.
Avoid strenuous outdoor activity.
People suffering from asthma or other respiratory problems should follow their asthma or breathing management plans or contact their health care providers.