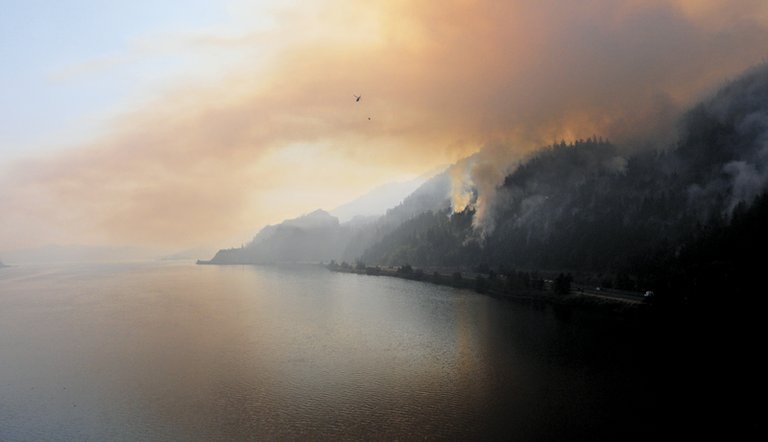 Friday, September 28, 2012
All eyes were on the skies, and the all-encompassing haze, this week as smoke from the Milepost 66 fire filled the Columbia Gorge and Hood River valley.
The fire, two miles east of Hood River, was contained at approximately 70 acres by about 120 firefighters and two helicopters Thursday, according to Erin Black of the Columbia Gorge National Scenic Area.
Photo Gallery
Mile post 66 fire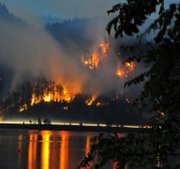 Images from the Mile Post 66 fire.
Mop-up began Friday morning, according to Greg Borton, chief of Wy'east Fire District, whose Pine Grove and Odell department volunteers were first on the scene Tuesday when the fire broke out near Interstate 84.
Schools felt the effects of the heavy smoke, and the County Health Department and Hood River Fire and EMS issued air quality alerts. (See page A11 for full text.)
Aided by calm winds, firefighters completed a line around the Milepost 66 fire Thursday night. Meanwhile, other small fires broke out near Mosier and across the river near Carson.
"It remains fire season and even though we have Milepost 66 under control people need to remember to take precautions," Borton said.
He said the terrain "is very steep and difficult to access, especially the first night.
"There's a lot of rolling debris, including rocks, that we had to deal with," Borton said.
"The best we could do was try to hold the fire at old Highway 30, which we thought we had accomplished; but then on Wednesday morning a spot fire above Highway 30 grew to 50-plus and burned to the top of the ridge."
Crews worked hard Thursday night putting water lines and hose lines around the fire.
"We're hoping the wind will pick up today and blow the smoke out of here," Hood River Fire Chief Devon Wells said Friday. HRFD paramedics aided a woman Thursday who had severe breathing difficulties, and Wells said responders have been prepared for other such emergencies.
Out of smoke concerns, the HRVHS Homecoming Bonfire event was called off — first the fire itself, and then the games, races, relays and barbecue that go along with the traditional bonfire.
"Overall, the kids were pretty understanding," said HRVHS Leadership advisor Niko Yasui. "Some asked why, and we'd say, 'Just go outside and take a breath.' It was just too smoky." (The bonfire has been rescheduled for Nov. 8.)
Community Education events Thursday were canceled, and the Wy'east Middle School Eagle Fest barbecue and open house was canceled because of smoky conditions, as was that day''s HRVHS soccer games at Westside Field. (Thursday's home JV football game went ahead as planned.)
Businesses felt the effects, too. Courtney Day of Three Rivers Grill said that because of the smoky conditions, despite the sunny, warm weather, no one dined on the restaurant's large deck, with its view of the Columbia River.
"It definitely affected us. With ash falling, it's understandable why no one wanted to sit out there. It wasn't good for our customers or for our staff," Day said. (By Thursday afternoon, as smoke lifted noticeably, some guests were out on the deck.)
Milepost 66 fire remained at about 70 acres Wednesday and had grown slightly that night. The lack of customary Gorge winds was a big help in containing the hillside fire, according to Black.
The cause of the fire remains under investigation.
Borton said Wy'east District was involved for the first 22 hours of the fire, with equipment, brush rigs and a tender, assisted by also West Side and Hood River departments, along with the state and federal agencies. On Friday morning, a tender from West Side was still contracted to ferry water to the fire.
All told, the three local agencies provided three brush rigs, two tenders, two command vehicles and total of about 20 volunteers.
"We give a thank you to all the fire departments for helping out, but also for the support from the community and being understanding of road blockages and air restrictions over the area," Borton said.
The Mark O. Hatfield Trail from Hood River to Mosier remains closed.
"I know some people question why we have everything locked off," Borton said. "But we just had to because of safety."
Meanwhile, firefighters responded to two small fires south of Mosier Thursday afternoon. Called the Elder Road fires, one was a quarter-acre in size; the other about three-quarters. The Oregon Dept. of Forestry, aided by firefighters from the National Scenic Area, a National Park Service engine and a helicopter, fought the two blazes. Both fires are under investigation.
Another one-acre fire Thursday near the High Bridge on the Wind River in Washington was picked up by crews from the Larch Mountain Honor Camp, the Washington Department of Natural Resources and local fire departments. The Wind River fire caused two homes to be temporarily evacuated. It is also under investigation.