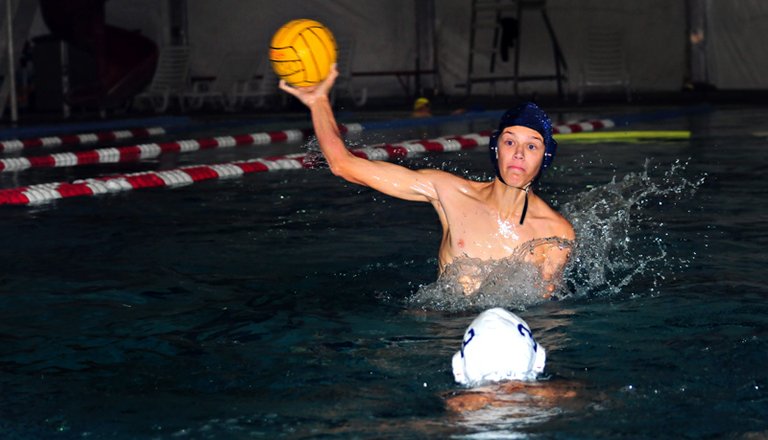 Friday, September 28, 2012
Hood River Valley High School's water polo team is already making waves.
The team — functioning as a club separate from HRVHS varsity athletics — formed this summer and has been working hard to learn the basics of the sport and get in shape in preparation for the fall high school season. In their first three games, the club's 11 players (10 boys and one girl) have surprised the competition and have come away with a narrow 8-7 loss against Centennial High School, an 11-8 win last week against Reynolds and a 16-9 win Thursday at Gresham.
"We have a group of young but strong players to start the team," said Dave Cameron, who stepped up this summer to coach the group. "We have one senior, a junior, two sophomores and the rest are freshmen. That means if these kids persist we're going to be in a great position in a few years to really get people's attention."
Although new to Hood River, high school water polo has been around Oregon for years. Teams make up five leagues in the state and most have transitioned to being part of their school's varsity sports program. Hood River is in the Mt. Hood League with Centennial, David Douglas, Gresham, Reynolds, Sam Barlow, Parkrose and Sandy.

"Ideally we'll attract enough players to form two teams — a varsity and a JV — for next year," said assistant coach Kellie Dunn. Using her experience as a collegiate player at University of California Santa Clara, Dunn is helping teach the team the basics of a sport that is, as she says, much more complex than it looks.
"They have come a long way in the last few months," she said. "One of the most difficult aspects is learning the rules of the sport. There's a lot more to water polo that what people see on television or from the stands, and there's even more that goes on underwater."
Cameron said ideally the team would have a few more players, and that it's not too late for interested high school students to join the club. Although only seven are in the pool at once, a full squad is considered 13 players.
"Most of our players have a background in swimming; it helps but it's certainly not required," said Cameron, who volunteered as coach because his son, HRVHS freshman Myles Cameron, wanted to play.
"A big reason for forming the team this year is Connor Dunn, who made starting a water polo club part of his senior project at school. In a small town like Hood River, when you have kids who want to do something positive like this, what else can you do but support them?"
With a skeleton crew, the team started practicing this summer and was able to schedule several games for the fall. The games are all away, with the possibility of a home tournament in October. As it turns out, the Hood River Aquatics Center is an excellent pool for the sport because, unlike many high school pools in Oregon, it's big enough to have a field that is deep at both ends.
"I think one reason we've come so far so quickly is because you can't cheat and touch the bottom here," Dunn said. "That's something a lot of schools don't have, so teams are going to want to come to Hood River to play."
Any high school student interested in playing can find out more by contacting the HRVHS activities office or by stopping by the aquatics center to watch a practice (weekdays, 5 p.m.).