Music at Springhouse Cellars
Springhouse Cellar in Hood River has started live music inside on Tuesdays, from 5:30-8 p.m. (The series will be moving outside to the Ruins in June.) There is no cover charge and food from Four and Twenty Blackbirds will be available.
April 2: Dave Donder and Barton Carroll
April 9: Richard Tillinghast Duo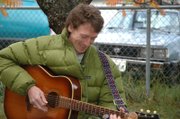 April 23 Cripple Hop (bluegrass)
April 30 Clambake Duo (jazz)
Springhouse Cellar, 13 Railroad Ave, Hood River; 541-308-0700.
(These dates have been incorrectly running under a Mt. Hood Meadows headine - Hood River News regrets the error.)
Taarka at CEBU April 6
This week at CEBU Lounge:
Friday, April 5: The Quiet American w/ Martin Gilmore 9:30 p.m. – Modern Old-Time American Folk
The Quiet American is husband and wife duo, Aaron and Nicole Keim. A home-grown modern folk revival, their music incorporates ballads, banjo breakdowns, raggy choruses, gospel duets and other dusty Americana gems.
Saturday, April 6: Taarka 9:30 p.m. – Gypsy/Dawg/
Celtgrass/Rock
Described as a "collision of Django Reinhardt and David Grisman," Taarka is the new acoustic supergroup presenting masterfully deep Americana and gypsy-jazz string band music. Led by the husband-and-wife team of David Pelta-Tiller (mandolin, tenor guitar, vocals) and Enion Pelta-Tiller (five-string violin, vocals), bassist Troy Robey and lately a fourth member has been either master guitarist Grant Gordy (David Grisman Quintet), or the impeccable guitarist Ross Martin (Matt Flinner Trio)
Lisa Ornstein plays house concert April 6
"Lisa Ornstein and Dan Compton relish in musical conversation. They transcend the form of the fiddle-and-guitar duo by playing completely together from somewhere deep inside the music. Although they are both accomplished virtuosos on their instruments, what is really exciting about them is the interplay between the two. They're definitely awake and listening – and no two performances are ever quite the same." Catch them on Saturday, April 6, at 7 p.m., Paul and Kristen's house, 401 Montello, Hood River, 541-387-4011.
Stillman at Gallery 301
Join Mike "Crazy fingers" Stillman and the Hood River Goldstars for a raucous evening of jazz on Friday, April 5, starting at 5 p.m. The Gallery 301, corner of Oak and Third, downtown Hood River, 541-436-0281.
Groove Project at The Pines
The Groove Project will be appearing at The Pines during Hood River's First Friday celebration on April 5 from 5-8 p.m.
The band includes Tim Mayer on keys/vocals, Ryan Kolberg on bass, and Tim Ortlieb on drums. The band will also have a special guest appearance from our favorite unrelated Mayer: Charlene on vocals.
The band will be playing some new material from their recent Easter Sunday gig that surprisingly works just as well in a winery as in church. The Pines Tasting Room, 202 State St., Hood River; 541-993-8301.
Entertainment listings can be e-mailed to jdrake@hoodrivernews.com