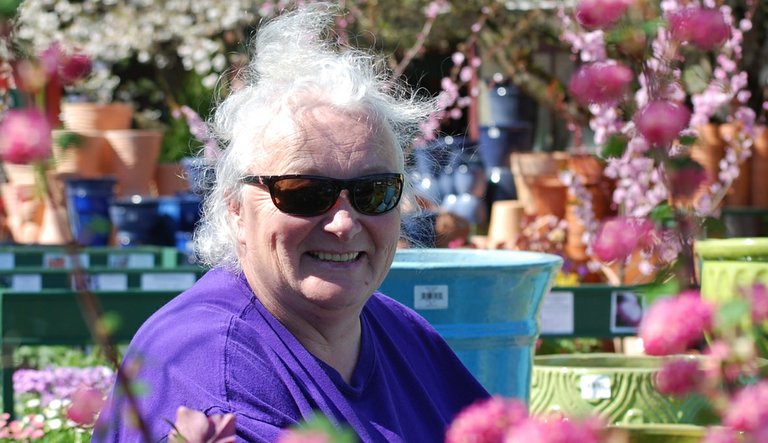 As delicate scents waft on softening spring breezes, a stroll through the life's work of Rhea Hergenrather will bring most visitors a deep sense of wonder and calm.
Good News Gardening has been brightening Valley gardens and patios for 32 years now and Hergenrather in partnership with her husband John is responsible for the expertise behind that beauty.
"I had a background in retail and merchandizing before starting Good News," said Hergenrather with a bit of good-natured amusement. "I had no experience with nurseries; but with John being a landscaper, I knew that if I didn't start a business related to John's we wouldn't have much time together to share."
Lucky for all nature-lovers, Hergenrather pursued that idea and has since created a nursery beloved by many. Five years ago Hergenrather decided to mix in her love of good, wholesome cooking to the business and the Garden Cafe' took over the quaint and cozy craftsman house on the property. Now guests can shop and sup at the same time.
Though Hergenrather's personal business acumen is evident, she credits her longtime staff for making the business customer-focused.
"I have a great crew here, many of whom have been with me over 15 years," said Hergenrather. "And our customers are like old friends. They return in the spring — I love to see them back. And, now with the cafe, we see them year-round, as well."
A typical day for Hergenrather begins at 4 a.m. and usually ends around 9 p.m. Luckily the month of January provides some respite from the grueling but gratifying work needed to create her plant-pleasing wonderland.
According to Hergenrather, her plant expertise has grown over the years in part because of her very knowledgeable customers.
"In a way, my customers 'grew me.' I tell my employees that they will learn a lot by waiting on customers. It is all very, very interesting and with new varieties out all the time, it keeps the work exciting," she said.
Not only does Hergenrather keep up to date on newly developed plant varieties, she keeps a mental Rolodex on which plants do well in which zones.
"In the Valley, it can really come down to what street you live on. We are all working hard to help people buy and plant what's going to work in their particular area," said Hergenrather. "We want everyone to succeed."
To help customers and better share wisdom, Hergenrather designed her own computer program to print out plant information to post in display areas.
But organization and efficiency never trump Hergenrather's creative side. In addition to her and her staff's enticing displays, she offers local artists wall space to display and sell their creations.
It's safe to say that Rhea Hergenrather is much like a symphony conductor, bringing together disparate instruments of beauty — flowers, art and food — to create a masterpiece worthy of a demanding audience.
Drop in and experience a bounty for all your senses.
Good News Gardening is open Monday to Saturday, 9 a.m. to 5:30 p.m., and Sundays, closing at 5 p.m. The cafe is open daily at 7 a.m. at 1086 Tucker Road.